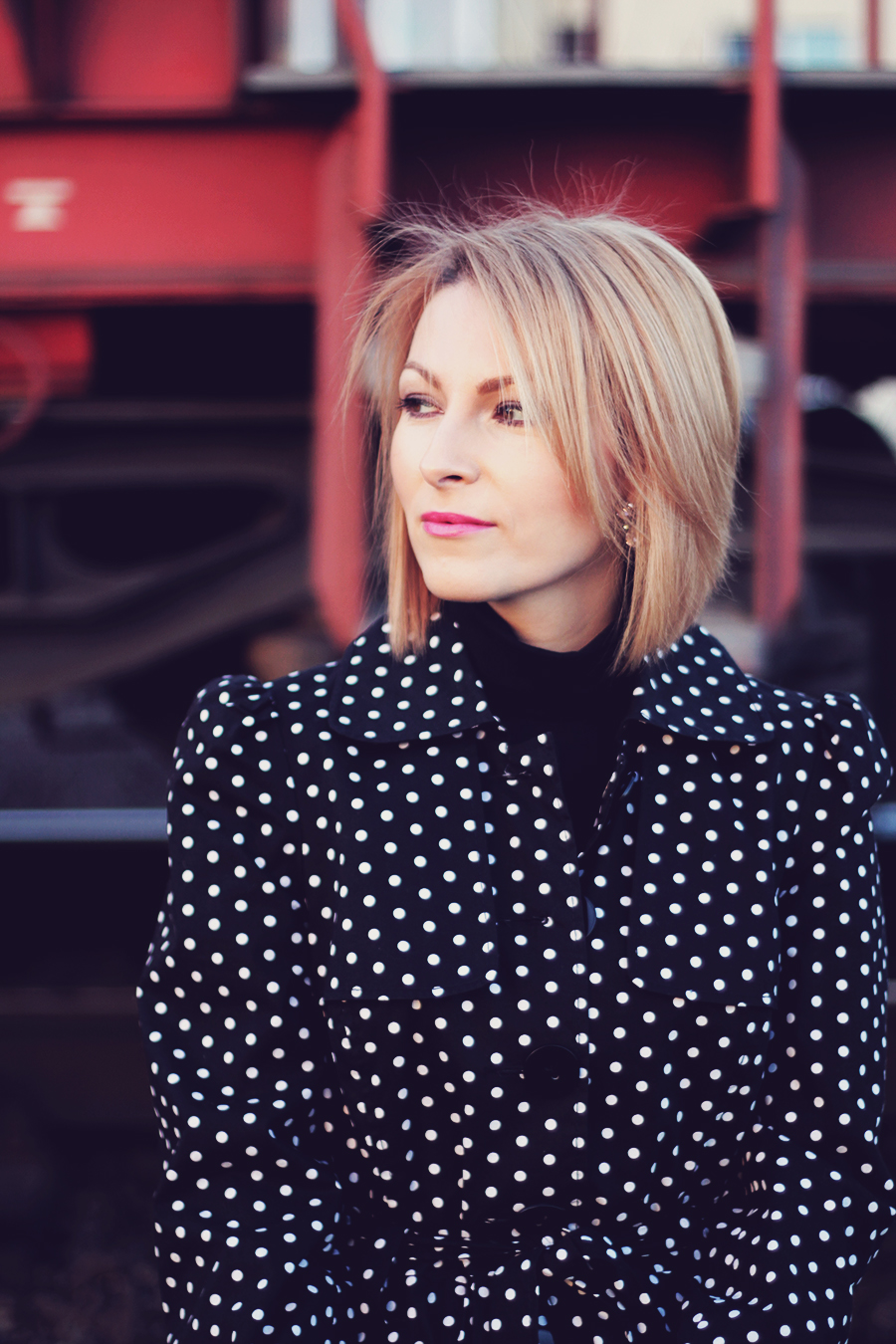 Happy belated Valentine's Day! I didn't get a chance to shoot as I planned during this Valentine's Day, because I was and am busy working and the days are beginning to blend into each other and end so damn quickly. But on Saturday I took advantage of the beautiful day and the gorgeous sun and took some photos at sunset. It felt like very slowly we are easing into Spring.
I chose a black outfit for this occasion, to match the black hearts I'm wearing in the photos: the tights and the clutch. Judging by this you could say I have a black heart, but that's further from the truth, it just so happened that I ordered these tights online and they came with a heart pattern (although I wanted teddy bears) so I decided not to return them in favor of Valentine's Day coming. And I already had my favorite black heart clutch. How serendipitous. The fabulous Swarovski earrings are long overdue borrowed from my best friend, I love them so much, they are spectacular and perfect for occasions like these. The funny thing is my hair was all kinds of crazy and frizzy, not that I did something to it, but because I guess Spring is coming and it's rejuvenating, so I have these puffy short hairs that stand out and no product I can find seem to tame them. And my hair is naturally curly. But usually I have it under control. The lengths I go everyday to make sure not one single hair is beginning to curl up begins to resemble OCD territory.
I also had my nails done in a natural color with just a hint of red hearts on two fingers.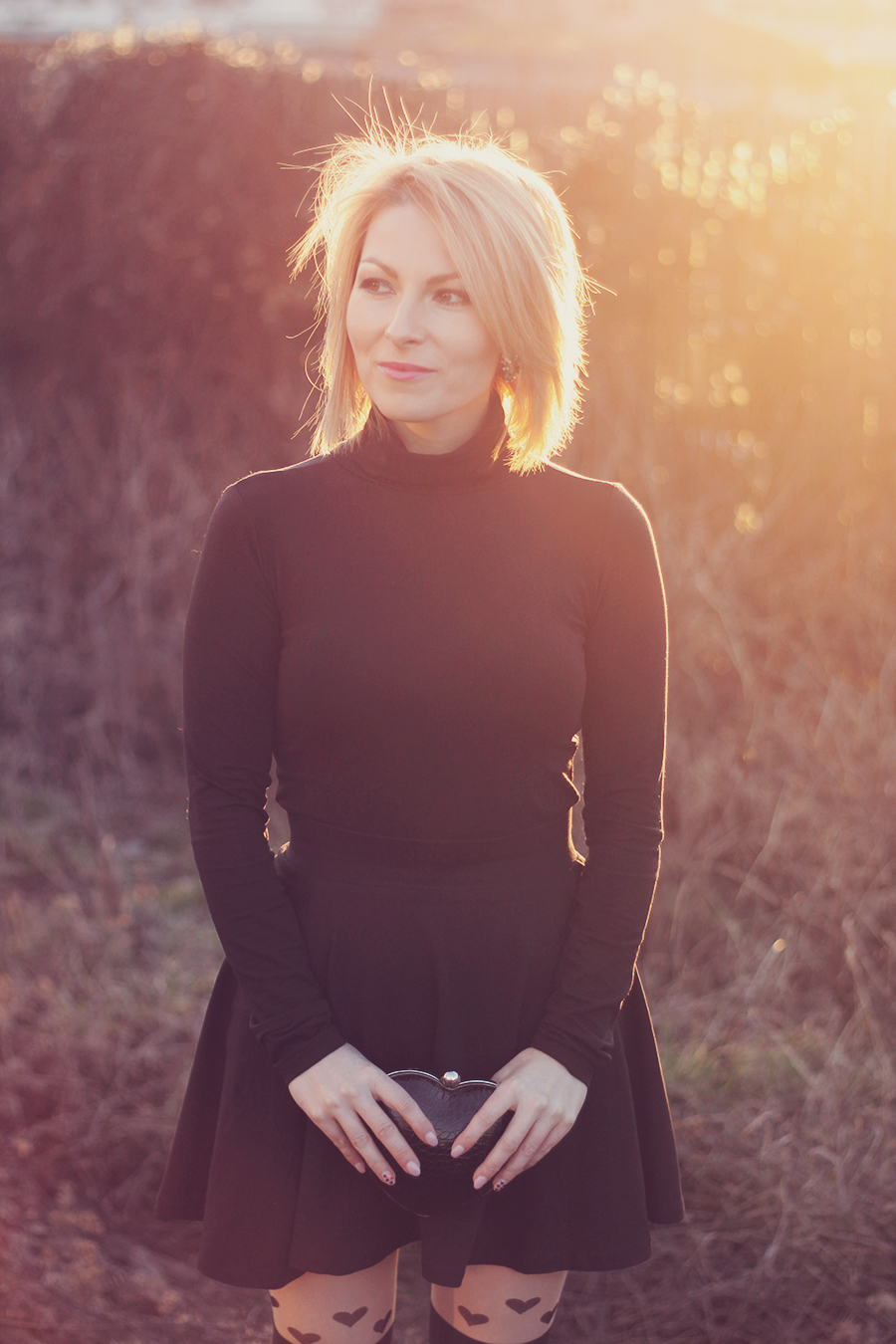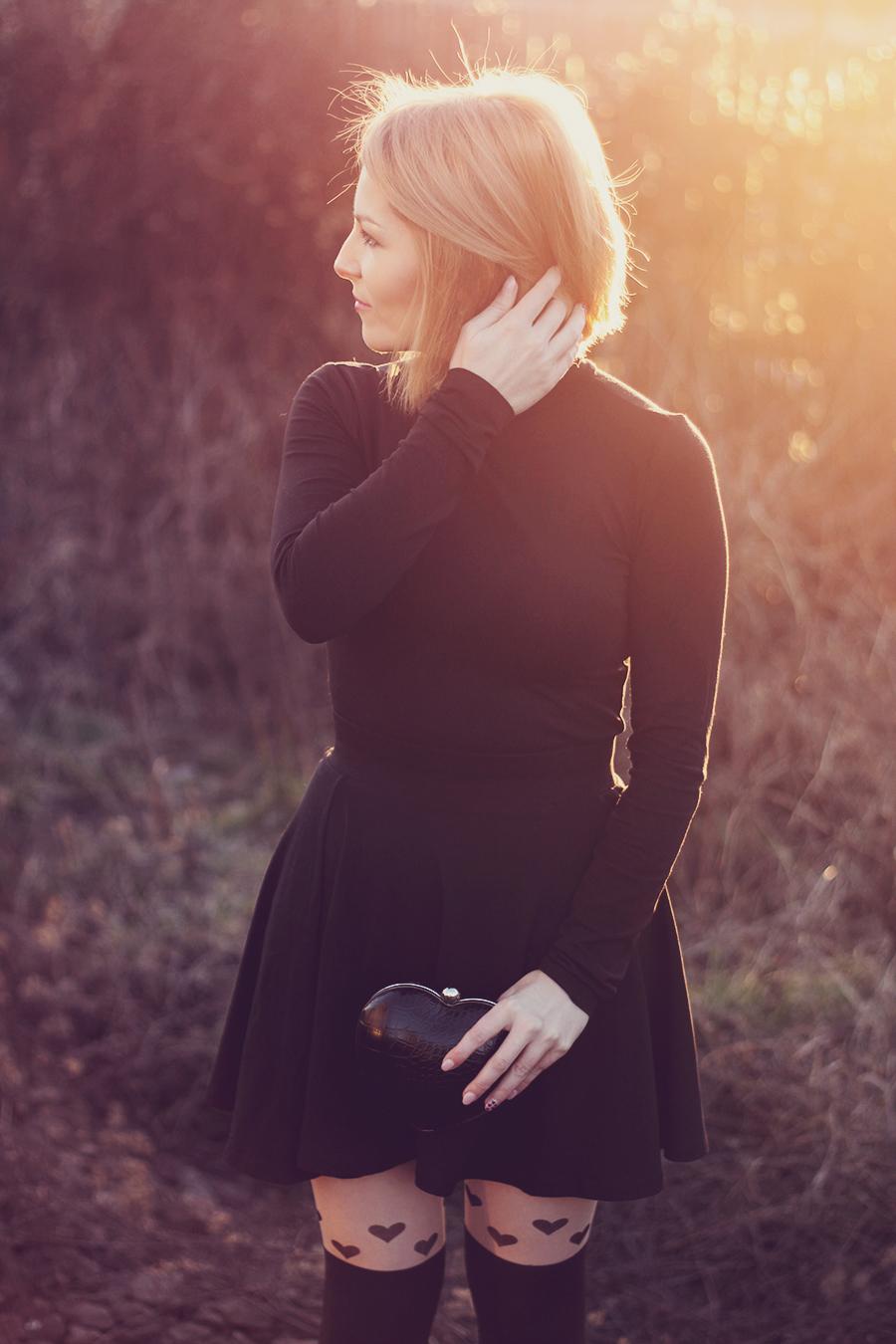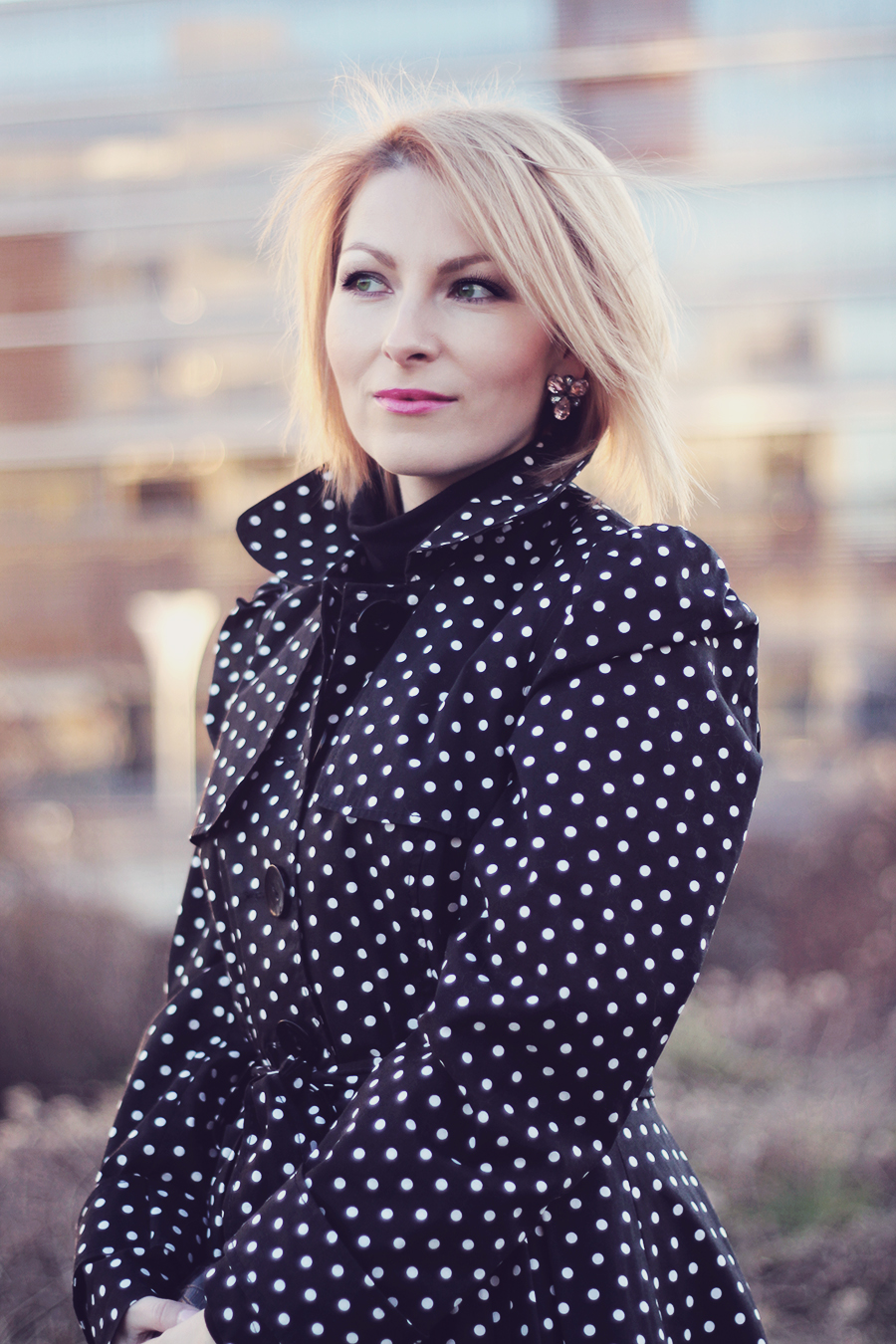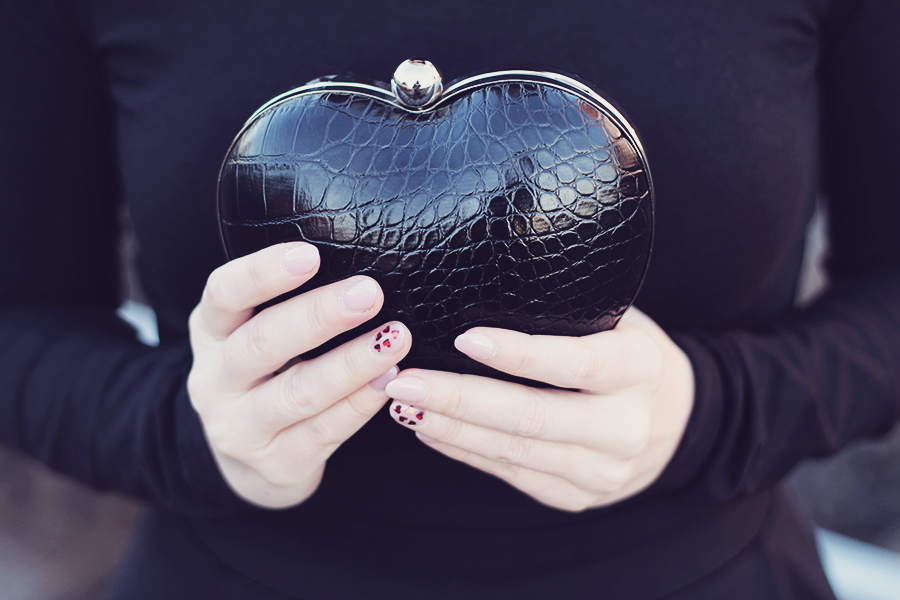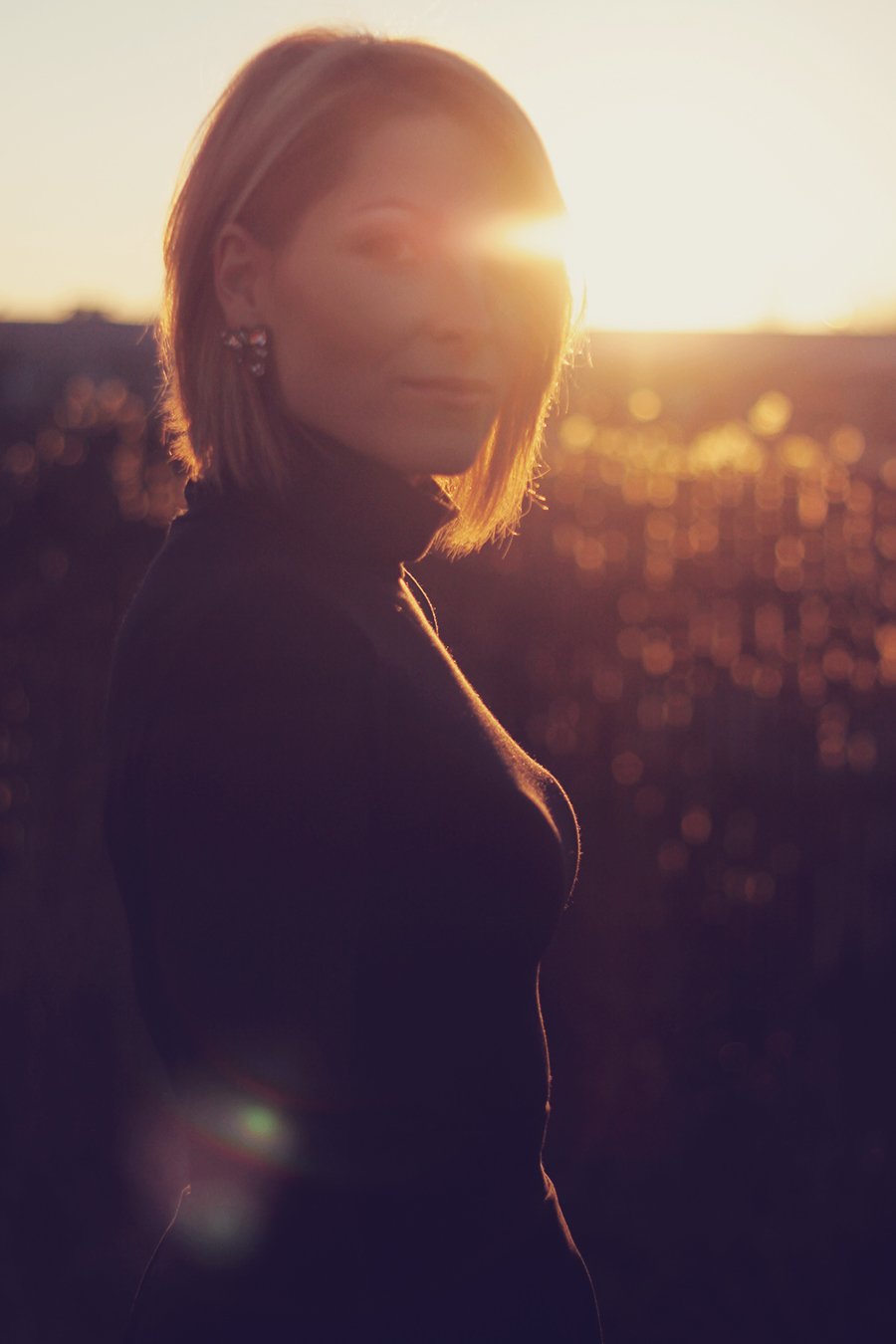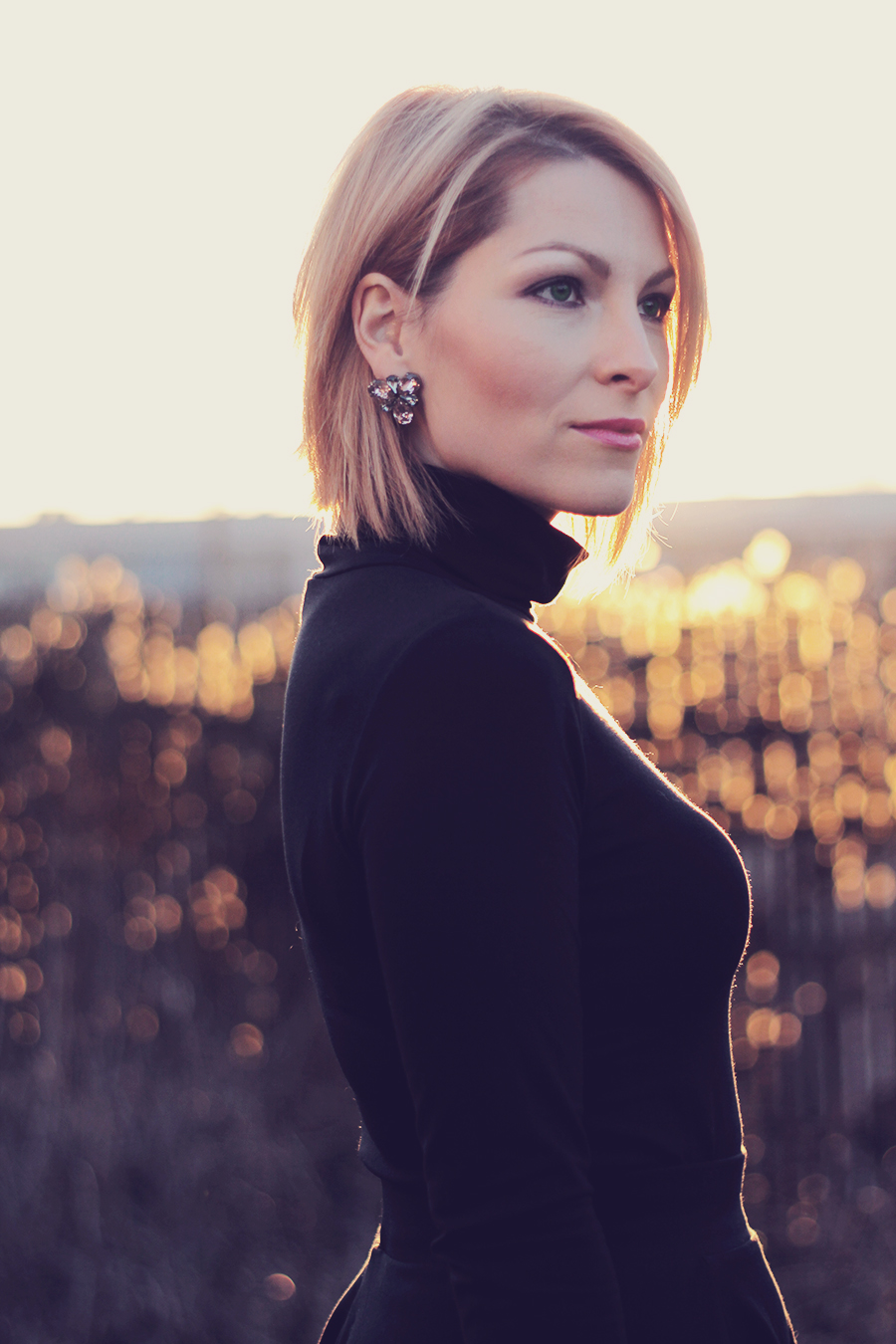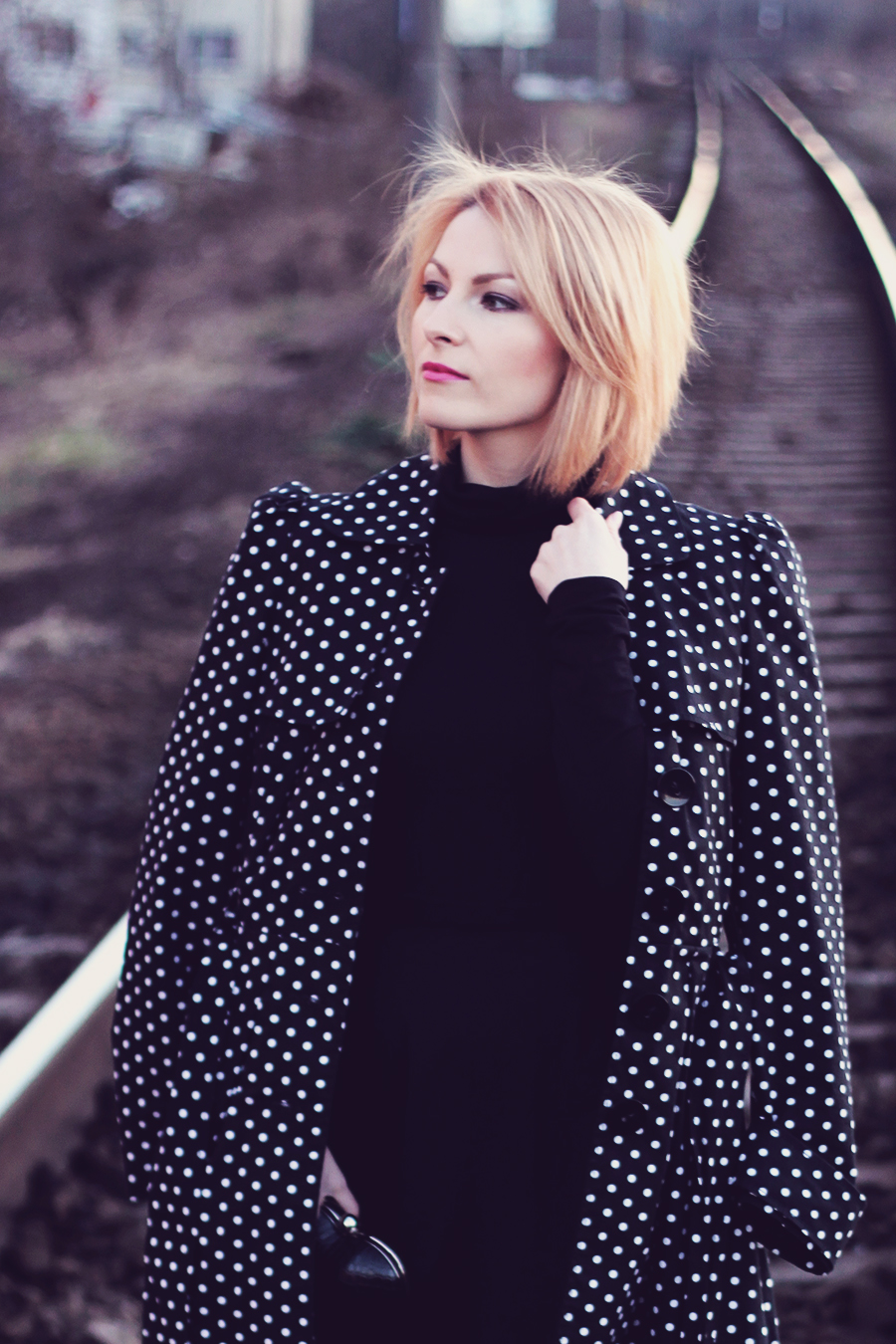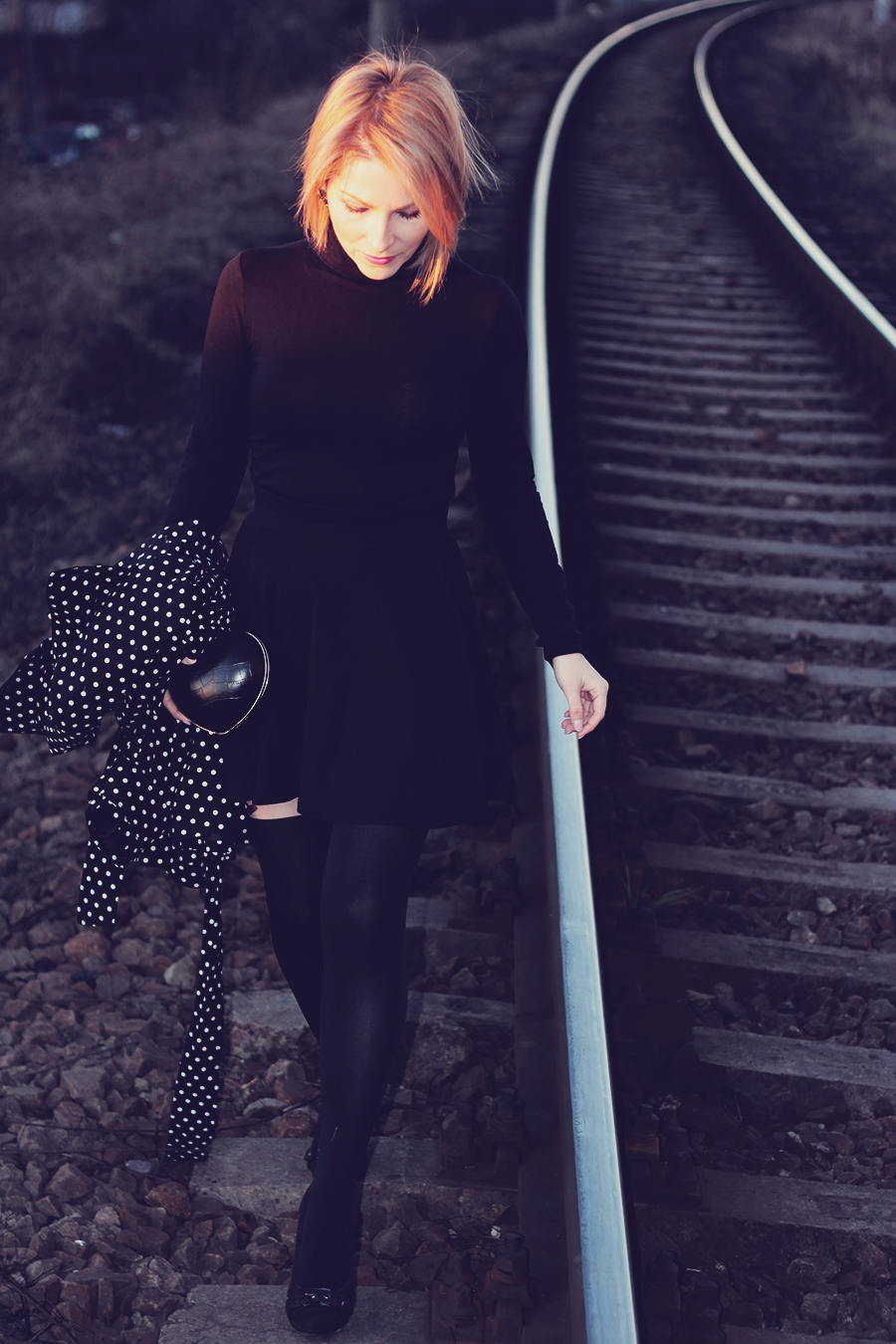 .
Wearing:
Dotted Mac Coat // Dorothy Perkins London
Body-hugging Turtleneck Shirt // C&A
A-line Skirt // C&A
Heart Pattern Tights // Sammydress.com
Heart Shaped Clutch // Pull and Bear
Pumps // Graceland by Deichman
Swarovski Crystal Earrings // Josephine 
.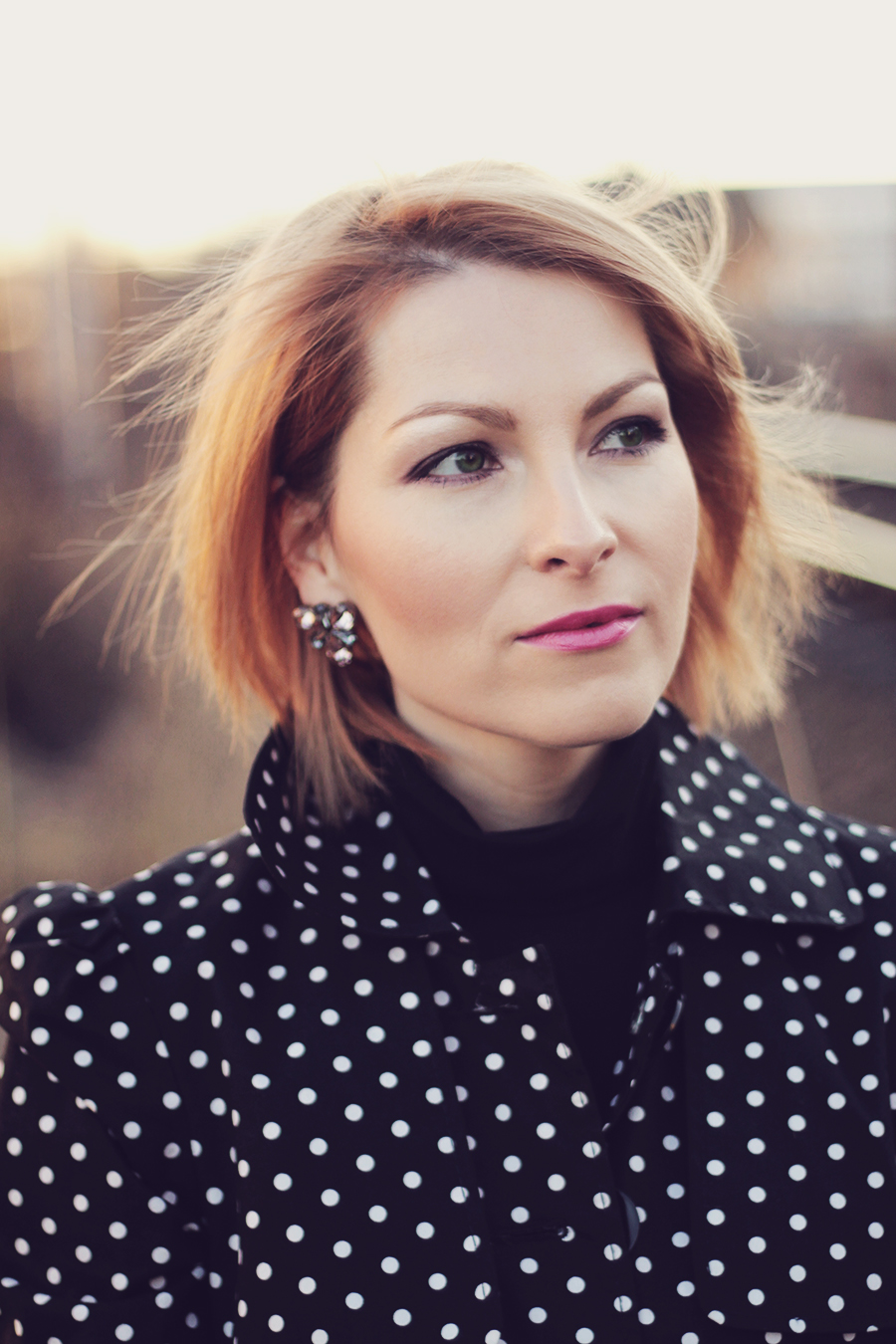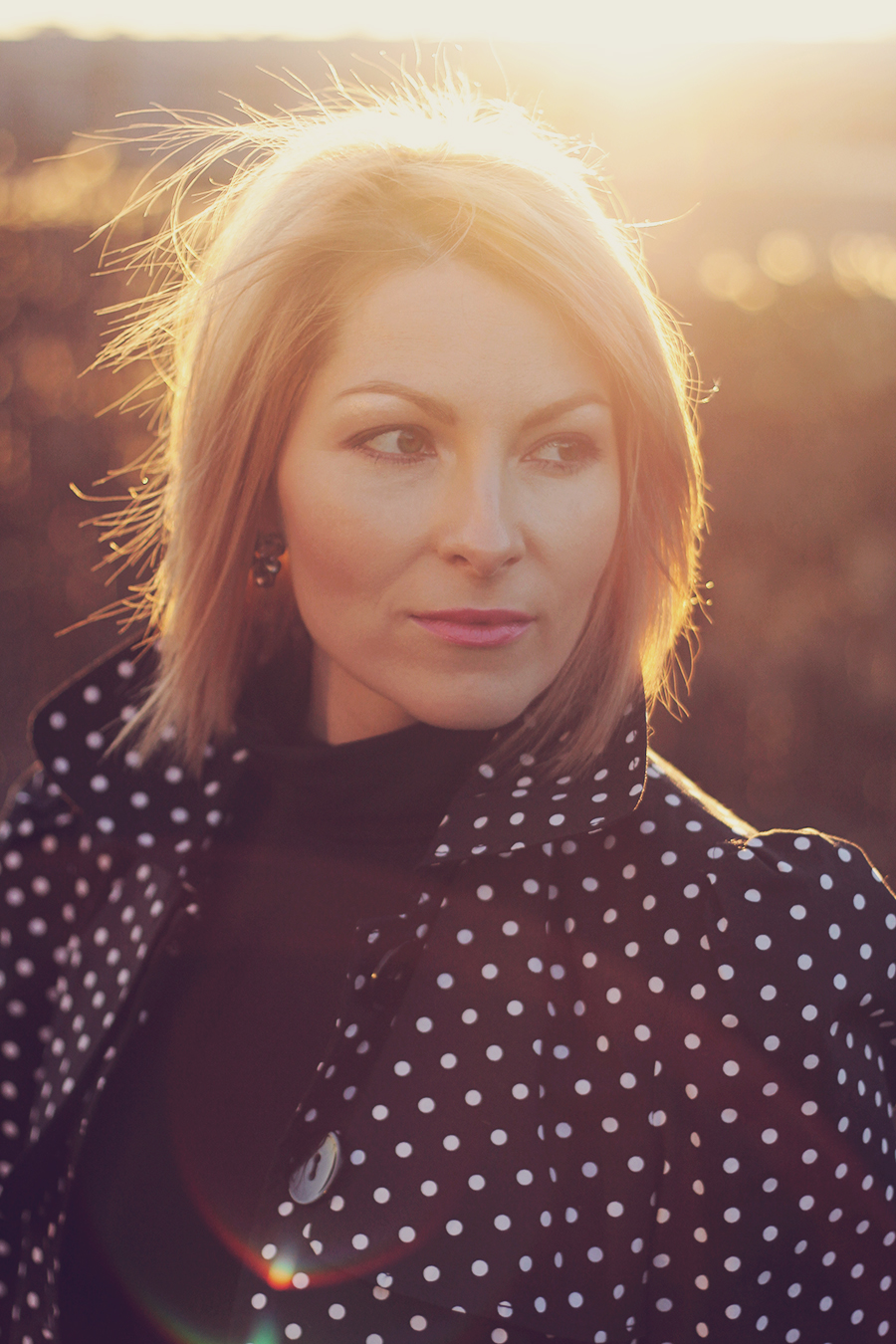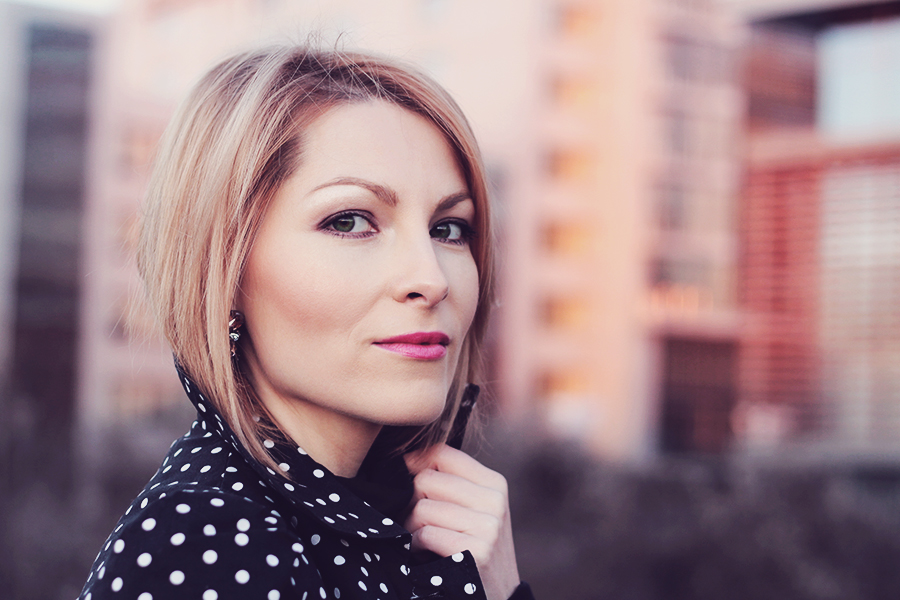 And because this is a beauty post too, I'm gonna let you know what products I've used for my make-up, I chose a pink lip, I've been wearing Fuchsia lips for a while now because I love my Revlon lipstick so much. And recently as a gift I was given the new Oriflame THE ONE compact colors and the natural one (Beige Pearl) is so perfect for lids and highlights that I'm beginning to wear it everyday.
.
Eyes // Rimmel Quad – Bold Behaviour, Oriflame THE ONE Cream Eye Shadow – Beige Pearl
Lips // Revlon – Fuchsia, Rimmel Vinyl Gloss – Pin Up
Brows // Oriflame Precise Brow Definer
Lashes // Miss Sporty Lash Millionaire
Face // MAC Prep + Prime Highlighter Light Boost, Vichy Air Tent foundation cream, Christian Dior Diorskin Nude Shimmer Powder
Cheeks // Maybelline Expertwear Blush
.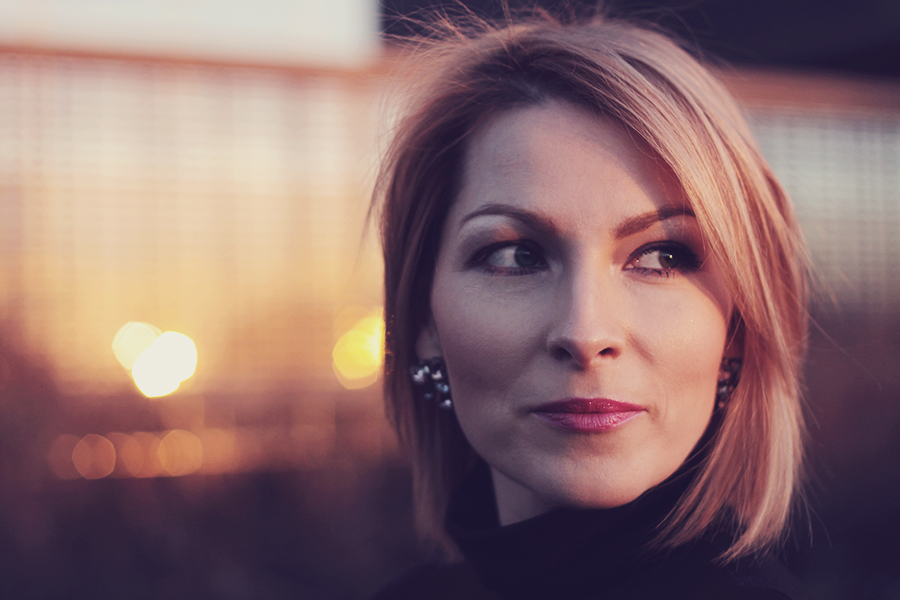 Until next time. xoxo
Photos by:
Cata
.
Get this look for $23+ on Lookastic: Black Turtleneck, Black Mini Skirt, Black Clutch