Going every weekend to the market across the street and seeing all the goodies there had me (again) craving for some sweet chocolate dessert. I know, I'm stuck on the chocolate desserts. What can I do? My boyfriend likes them and so does everyone, especially dark chocolate deserts.
Raspberries were EVERYWHERE. I bought on Sunday more than I could handle because I wanted plenty for my cake. I wanted the "I can put how many I want, and not skimp" approach to it, not like you get with most confectionery cakes that you buy, always skimping on the yummy stuff.
I never know where I'm heading when I'm baking, but the results surprise me every time. Like a "I have the image in my head" kind of trip, but then something happens and you decide to move in the other direction. Here was my inability laziness to buy blueberries (although they had them at the market the day before) and make a very elaborate layered cake covered in raspberries and blueberries. How fun! Fortunate for me the end result was a delicious decadent, not so sweet, dark chocolate cake that matched very well with the fresh raspberries.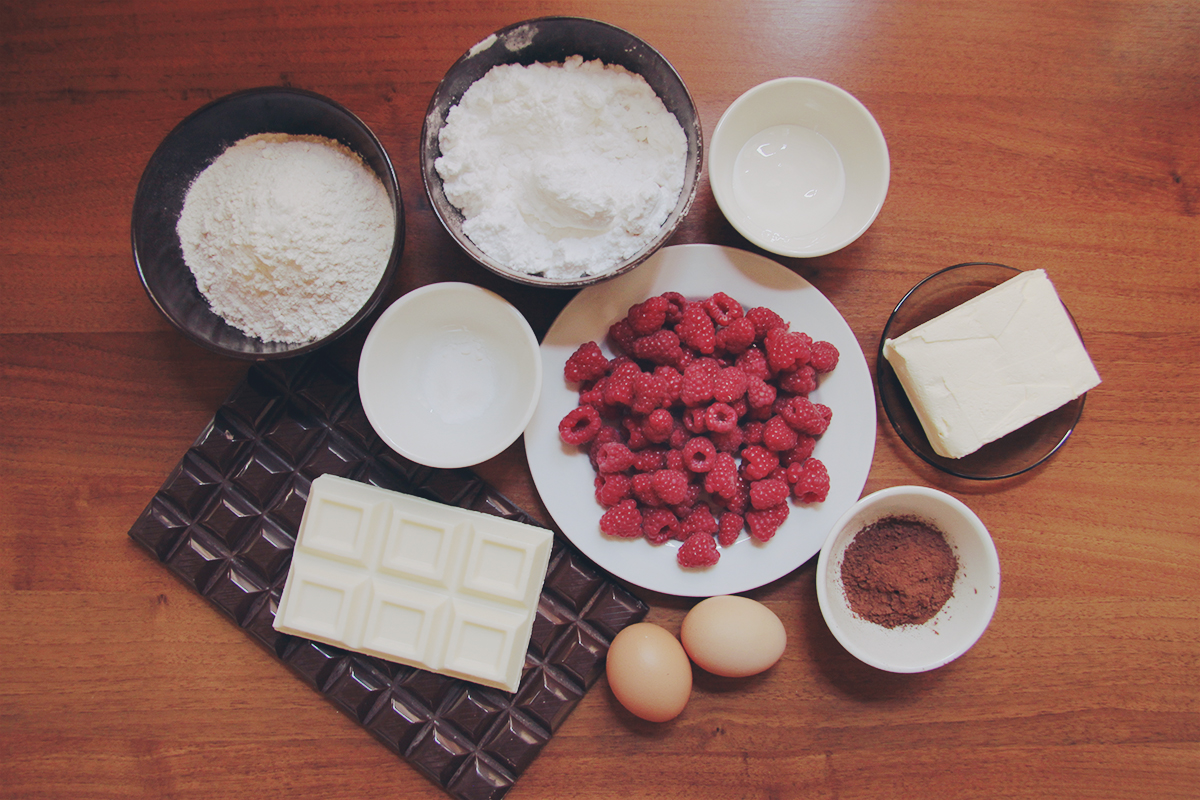 What you will need for the cake:
500-600g fresh raspberries
250g white flour
25g baking powder
250g dark chocolate
100g butter
150g granulated sugar
100g cocoa
4 eggs
50ml liquid cream
And for the melted chocolates:
50g melted cream
400g dark chocolate
150-200g white chocolate
Preheat your oven to 140°C. Take two large bowls. In one place the flour mixed with the baking powder, the sugar and cocoa. Mix them together. In the second bowl beat the 4 eggs and after mix them with the liquid cream.
I'm going to pause here for a minute and talk to you about the awesomeness that is liquid cream. It's practically liquid mascarpone cream, if you ask me. Nothing is better for baking and sweets that liquid cream. They way it blends and makes everything yummier…, I cannot describe it. It's the "go to" secret weapon for any baking girl. Ok, that is it. Rant over. Back to our recipe.
Now it's time to melt some chocolate. In a small pan melt the dark chocolate with 25g of liquid cream and 100g of butter. Because this batch of melted chocolate will go in the mix of the cake and put in the oven, I like to melt it with butter, but otherwise, for the ganache covering the cake, I melt the chocolate only with the liquid cream.
Pour the melted chocolate and the eggs mixed with the liquid cream in the bowl with the flour and everything else. Mix together until it becomes this dense, even, gooey dark mixture. Get a large wooden spoon and put it in a springform pan. Even it out to rise correctly in the oven.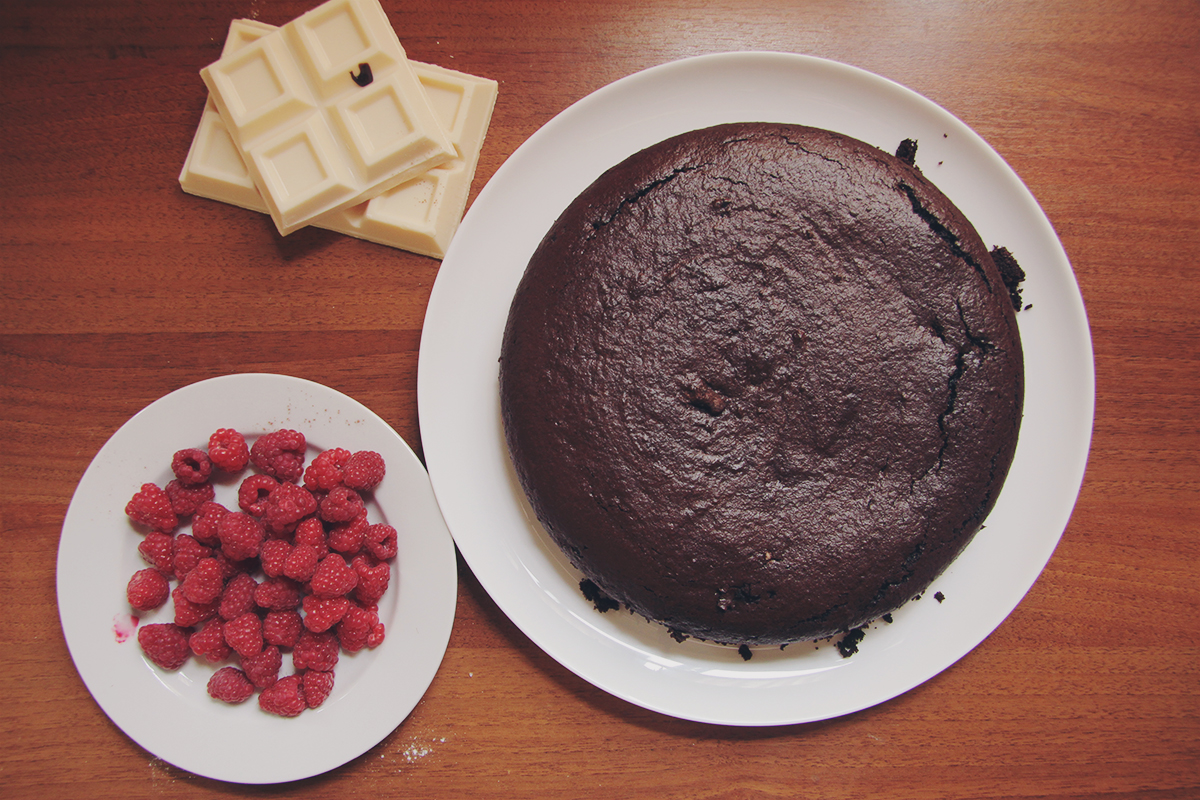 And here is how it will look after it is baked. Time to bake is only 40 minutes. My springform pan is 26cm in diameter. I'm planning to get a smaller one – for cuter, smaller decorated cakes.
Next, melt some more chocolate. In that same small pan melt the dark chocolate first. As I said before, this time I melt it only with liquid cream. After it's done, pour it over the baked cake, starting from the middle and let it fall on the sides. Since the chocolate is very warm, start to add the raspberries, starting from the middle of the cake and let them fall on the sides. Save some more for the finish.
Last is the melting of the white chocolate. You don't have to melt a lot. I put only about 150-200g of it. Pour it on top of the cake, again middle and let it ooze on the sides. Add some more raspberries.
Done!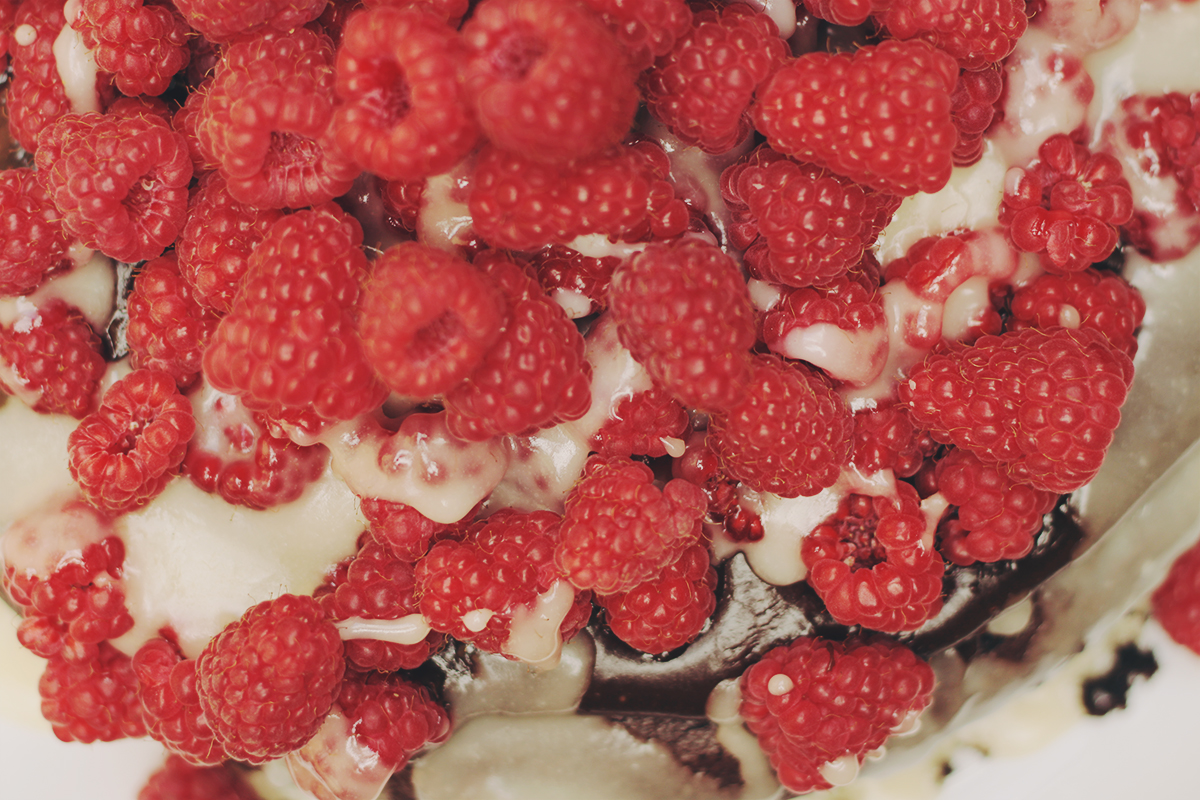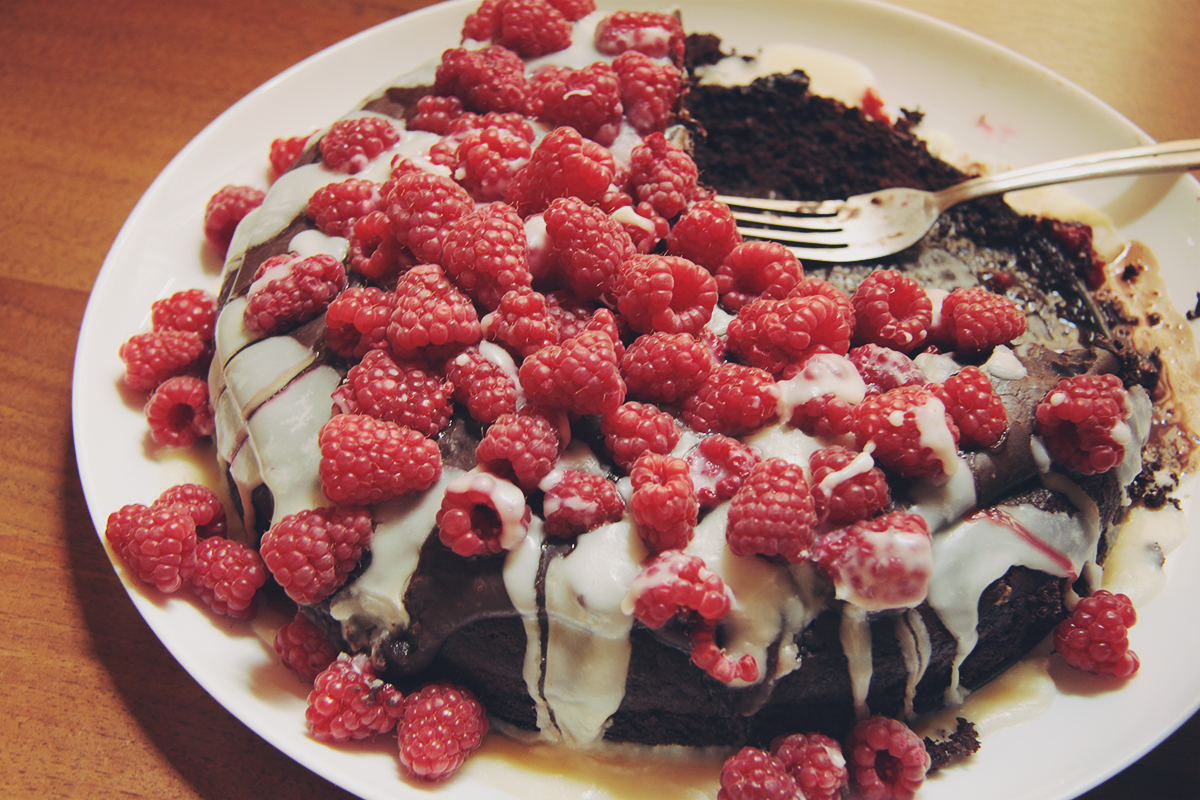 The whole melted warm chocolate will ooze all over and blend in a decadent, delicious way, mixing all the flavors in your plate. I was able to spread the cake all over town, as I shared it with whomever came to our house and brought some to our families and friends. I always knew that desserts would bring people together. In time the chocolate will begin to harden, but in no way it will lose its yum factor.
Share it with your friends, family, pets and whoever wants a plate. Believe me, they won't be able to resist 🙂
.
Photos by me
.