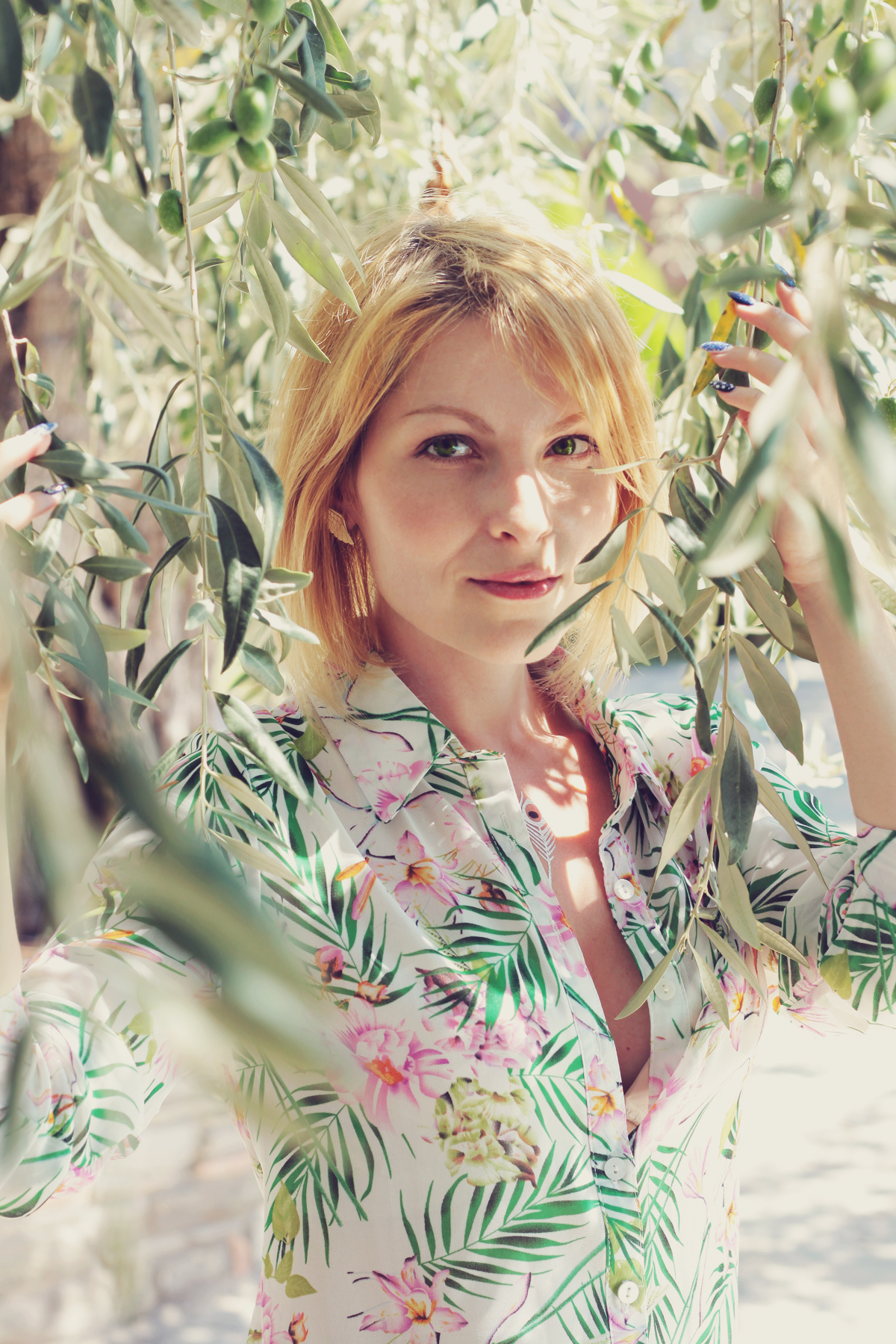 Just before I begin, I have to say this: I've been waiting way too long to photograph this beautiful blouse in an exotic place. The island was the perfect setting and it was the very first thing I packed 🙂
This is my last post out of my 4 series of posts from Thasos. Read the previous here, here and here.
Coming to terms with the fact that our vacation was over and actually leaving, had me bummed out. I got up early and decided to at least enjoy our last day, as I knew I would be up for some photos in the beautiful Olive Garden from our hotel. During our 6 nights there (there were supposed to be 7, but we missed the ferry and slept one night in Thessaloniki – a city I always love to come back to and adore) the garden was truly ours. It had a pool but nobody ever came to it, so we had it for ourselves. Especially at night. And besides the beaches, I loved that Thasos is covered in olive trees.
In the end the two of us decided to leave the pack and go through Sofia, Bulgaria, sleep there and the next day head back home. We took some photos on the ferry too, because what's there to do when you are first on it.
Leaving Greece had me all sad, but happy to come home and share with you the wonderful photos and places we visited on the island. All in all it was great, we had time to do what we wanted, had an awesome hotel, pool, food and staff that catered to anything we wanted. But who cares when you're an island in the sun, I would have slept on the beach every night 😛
.
Photos by: Cata
.
Wearing:
Long Sleeve Pattern Blouse // SheIn
Black Shorts // H&M
Flats // CCC
Earrings // Accessorize
Sunglasses // C&A
Flash Tattoos // Stradivarius
.
Until next time,
xoxo
p.s. My mind is already buzzing with thoughts on the next destination.