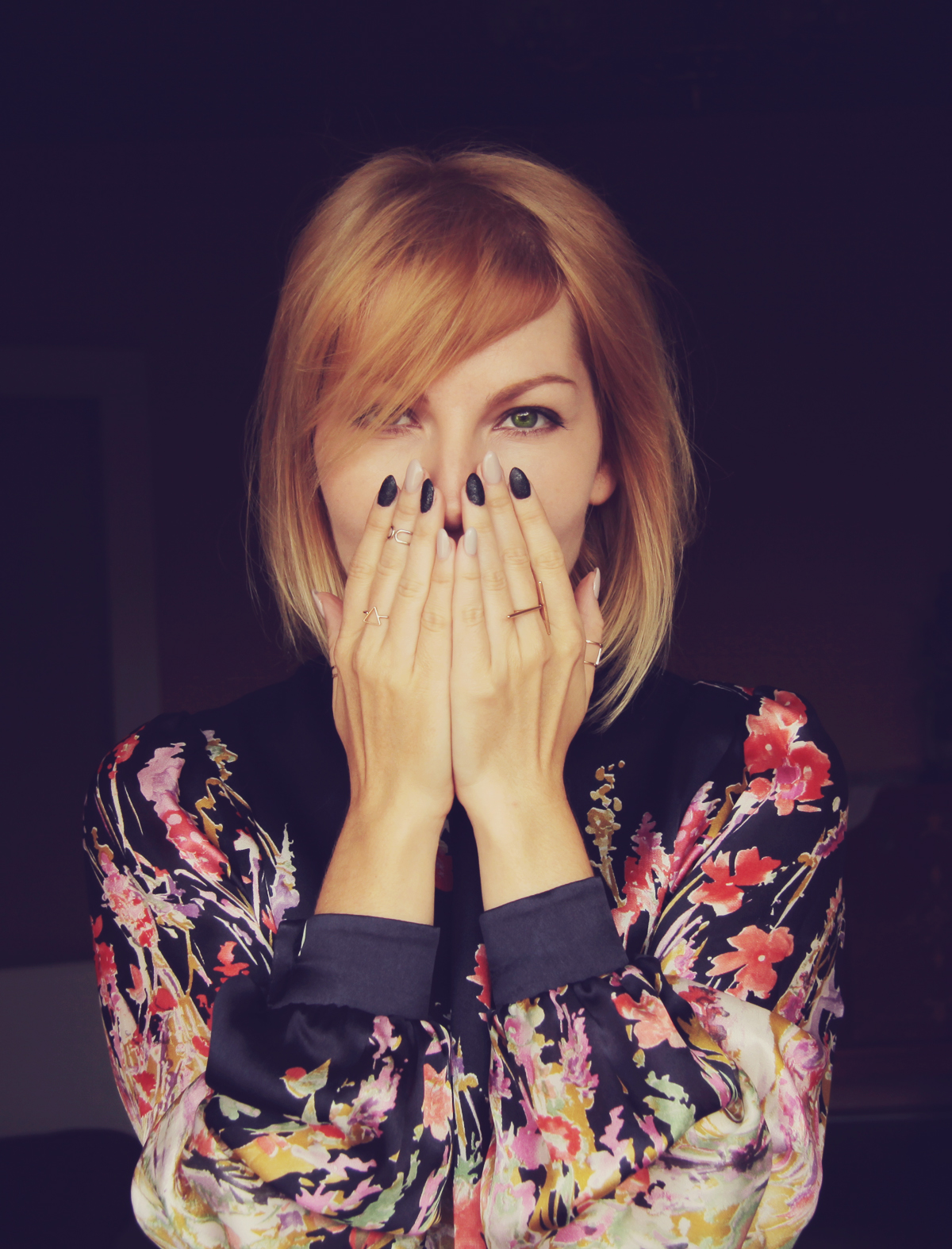 I'm introducing nail posts in my Beauty Category, because for a few months now, if you've been following me on Instagram, I've switched to gel manicure. Why? Because I love un-chipped, perfect, resistant to washing dishes every evening nails. I have lots of ideas every time I get them done and it's a lot of fun. Right now I'm obsessed with nude colors with a pop of black or glitter. And rings. Lots of tiny, geometrical rings. 
I think you can recognize this beautiful silk blouse, it has been photographed before… a lot. I promise I will do a full outfit post with it soon. It deserves a special post, because it photographs so wonderful, hence me using it every time.
I've chosen a simple make-up, that highlights my green eyes with my favorite shade of lip – fuchsia. I've used a lot of lipsticks and glosses over time, some awful, some good, but I think that Revlon products are the best thus far. I don't use a lip pencil, just a lip brush. I'm thinking of buying a MAC lipstick soon though, to see if it lives up to the hype 🙂 And, again, I shot the photos at my parent's house while they were away. I like the light in the afternoon there, it's so soft and flattering.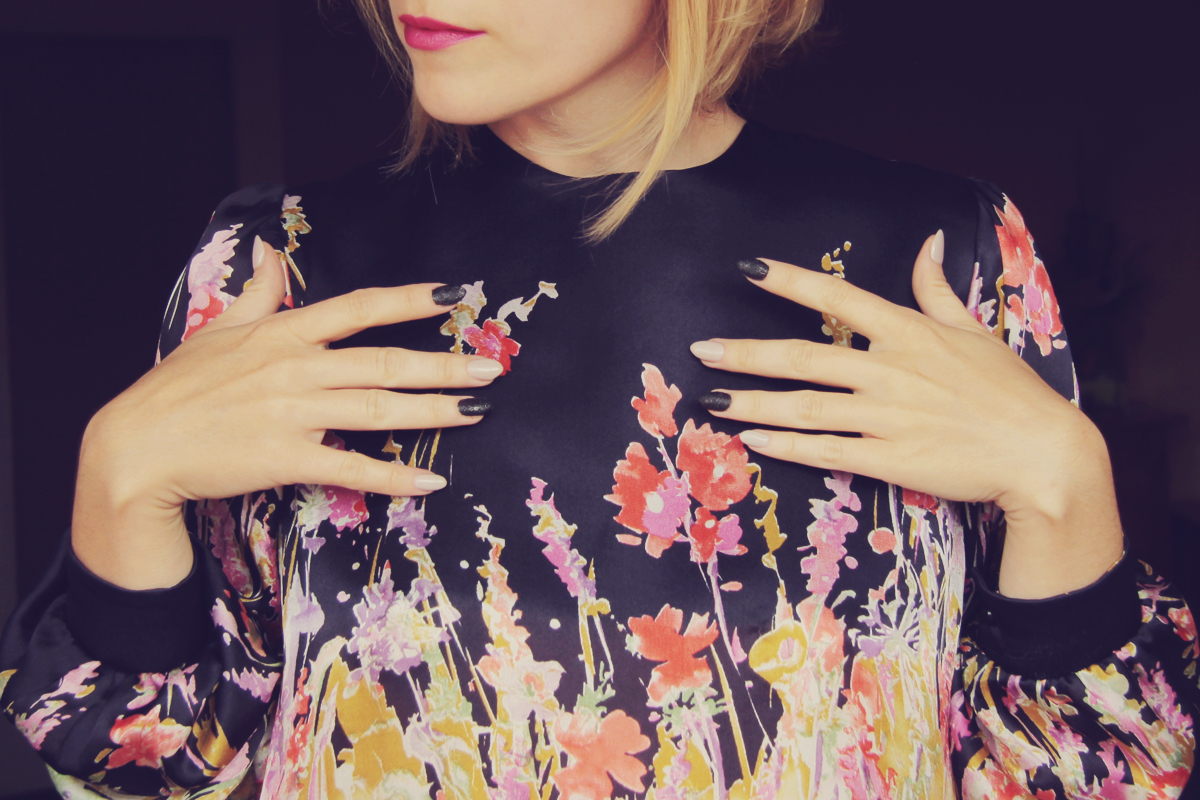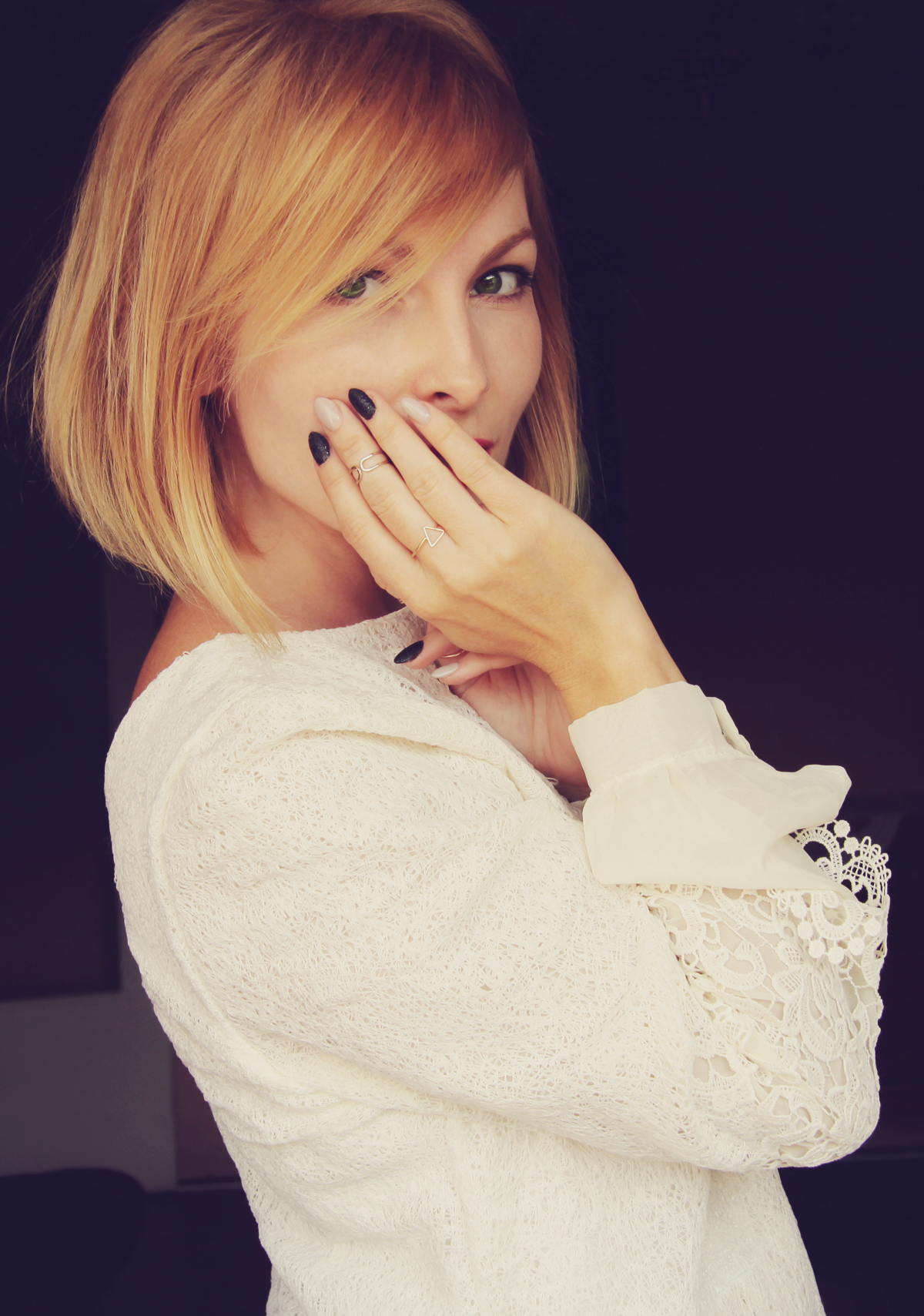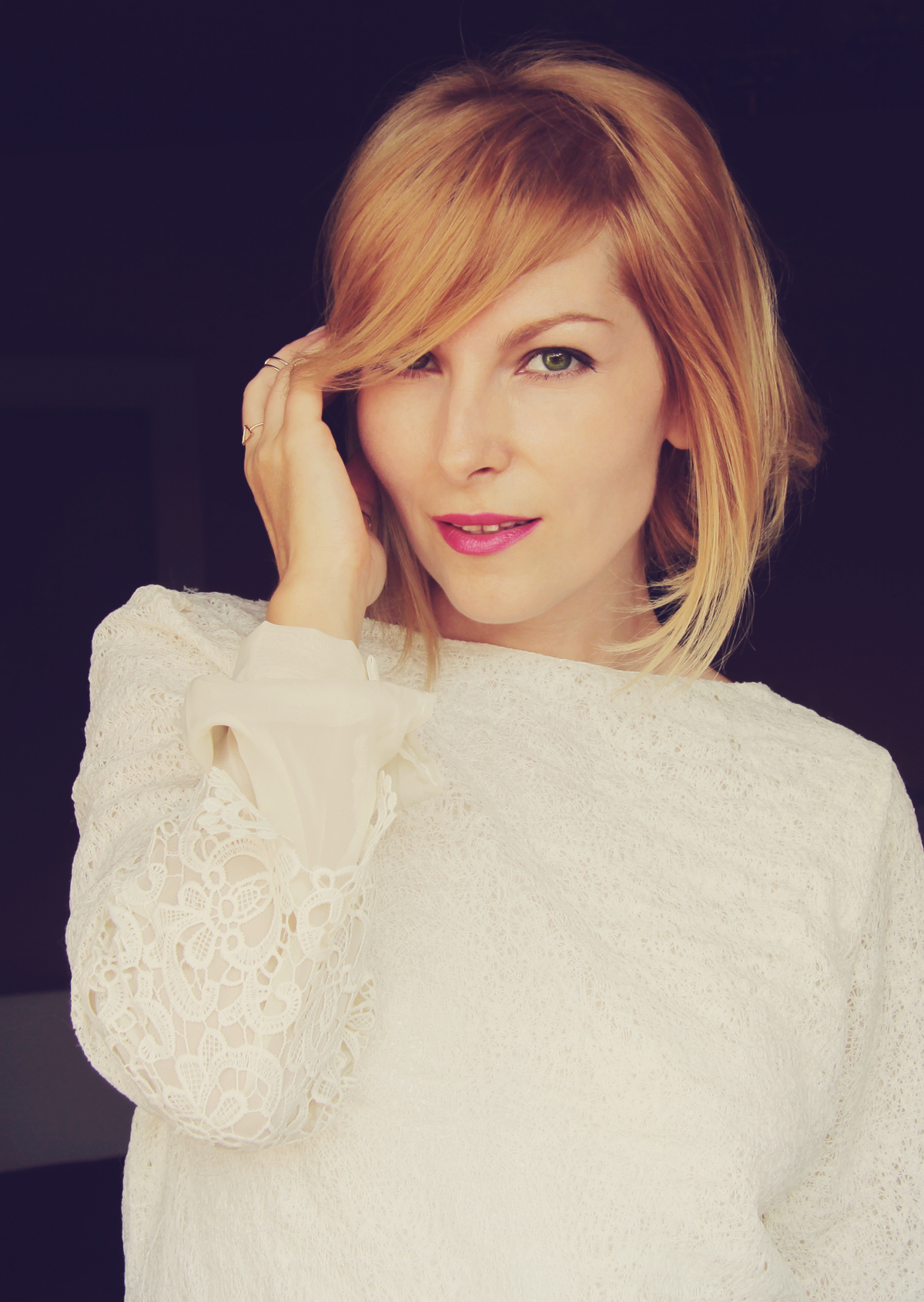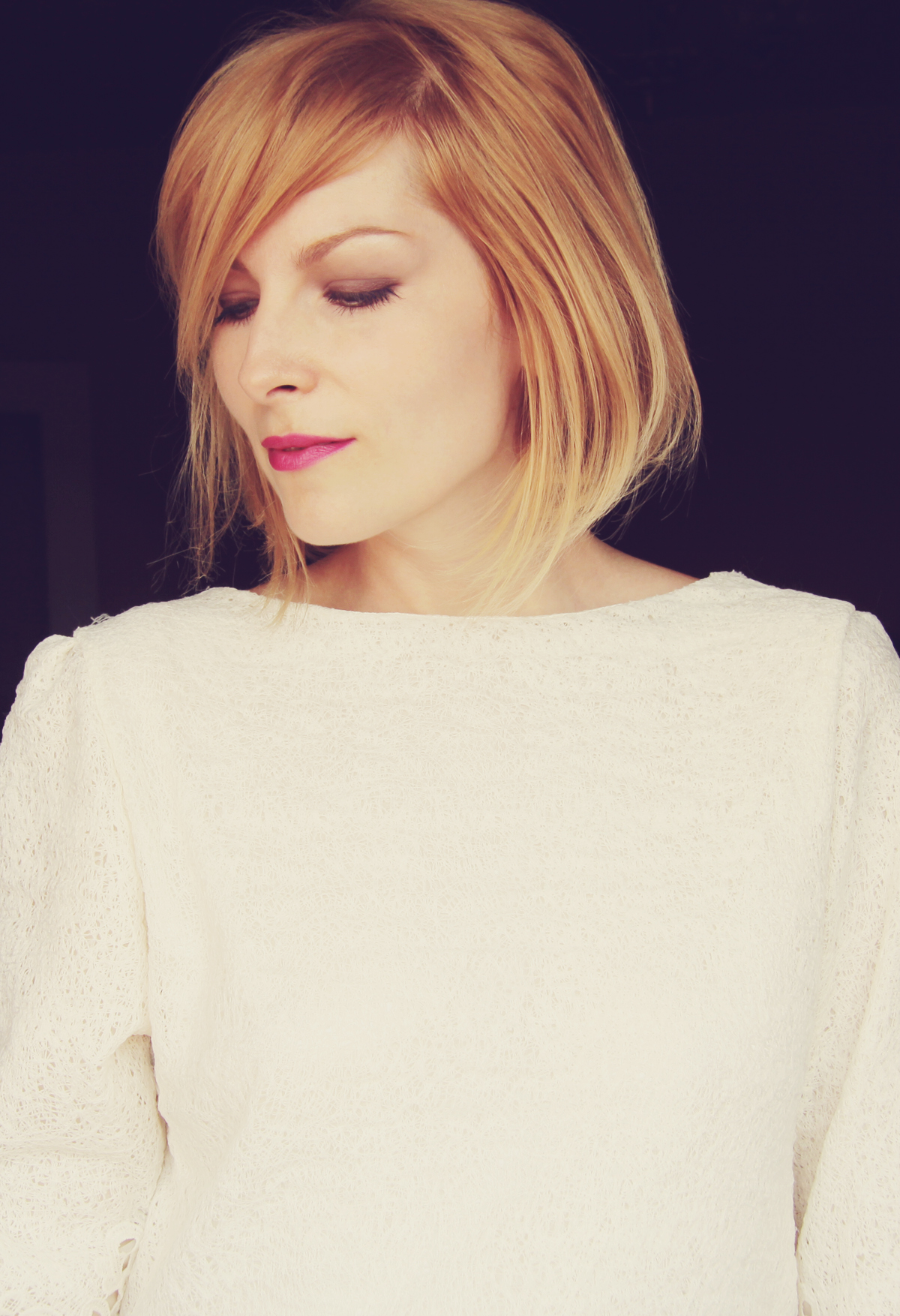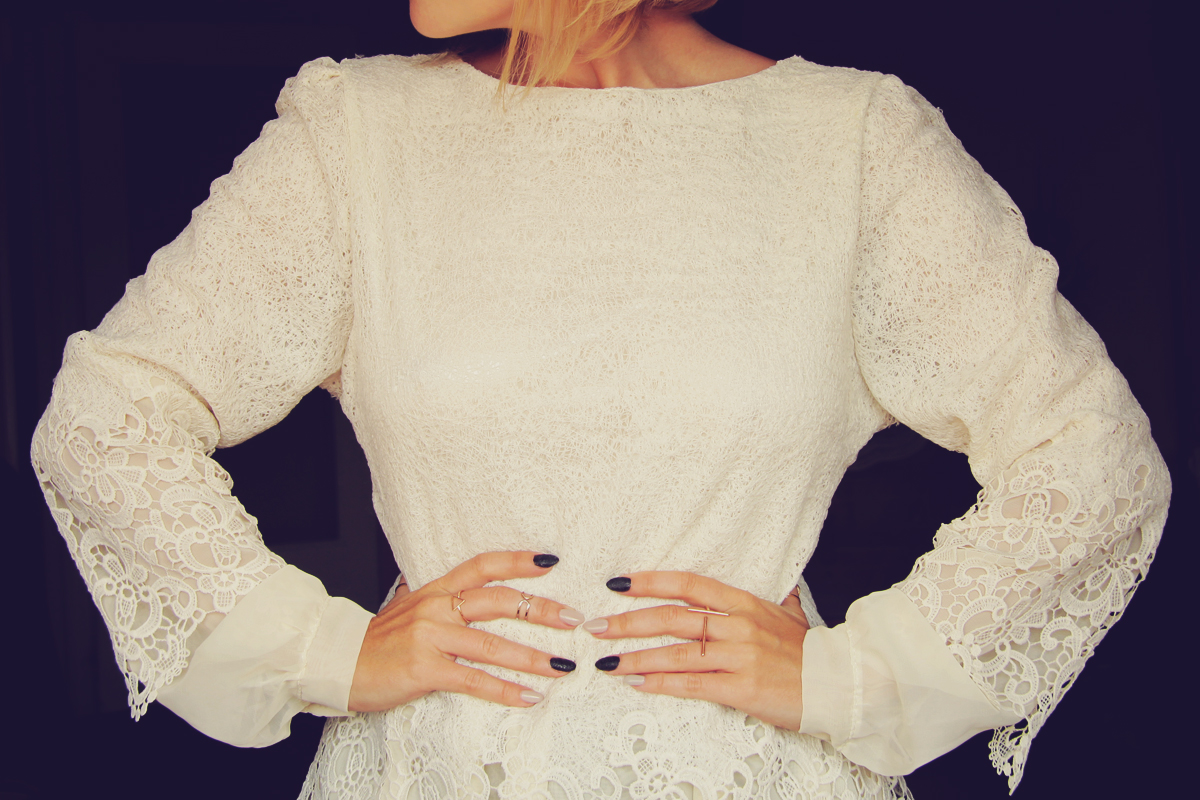 Photos by Me.
.
Wearing:
Floral Silk Blouse // Diana Bobar
White Lace Blouse // SammyDress
.
Make-up:
Lips // Revlon – Fuchsia
Concealer // Aura – Correct ME – Natural
Brows // Oriflame Precise Brow Definer
Lashes // Oriflame Giordani Gold Volume Delight Mascara in Black
Highlights // Oriflame THE ONE Cream Eye Shadow – Beige Pearl
Eyes // Maybelline Natural Accents Eye Shadow – Coffee Bean, Oriflame Veryme Double Trouble Mocha Loca Eye Pencil, Astor Couture Eye Shadow – Hot Coffee
.
Until next time,
xoxo
.
p.s. About the white lace blouse – it is actually my mother's, she wanted it because she saw a photo of it on my Facebook page in an advert. We ordered it, along with a couple of more items that were fine, but this one, although it's an XL (!) you can see it's actually not, more of an S or XS. The material is not great, more plastic than natural, it bulges in all the unflattering places, and is not very comfortable to wear. It promised flow-ness and it's anything but. You cannot see all that in the photos because I was careful in how I posed in it. Nevertheless, I chose it because it does look pretty amidst all that. Now neither of us wears it. Buyer's beware, I guess.