How was your Valentine weekend? Mine was full of Cosmos and Deadpool. It was perfect!
First let me get this out of the way: how cool was Deadpool? Where was I when all that brilliant marketing campaign happened? Oh wait… busy digesting everything about Suicide Squad. I went fresh in, not seeing any trailers, any commercials, just knowing my fantasy boyfriend would be in it. Oh hi, Ryan. SO MUCH FUN!
I was in a still Cosmo daze from the night before when I met Diana in a movieplex stacked full of people. My hangover kept me from shooting together Sunday, so I axed the whole thing. Just thinking of make-up and looking pretty had me take a blanket over my head and sleep some more.
I've never celebrated Valentine's Day properly, ever. You don't need a special day to love each other blah, blah… you know the drill. Yeah, I believe in that. Having said that (as Larry David would say), Cata bought me these cute triangle 3D earrings that I absolutely love and we shared a big heart chocolate before heading off to town at a friend's birthday where alcohol poured and you know the rest of the story if you got this far.
On to this cute effortless look that I styled having those black cherry lips in mind and my new nails: a black and white oversized shirt paired with jeans and high platforms. I took advantage of the very warm weather we're having now. I am slowly beginning to force Spring into my looks as you can see. I've always been a fan of shirts. I prefer cool patterned shirts. This one is that cool, yet so simple. I wanted leggings for this, but chose jeans so I could tuck the front part into my pants. Got out my very old, but very cute high platforms, my cute purse and a whole lot of bracelets I had laying around. I know, cute, cute, cute. I've always said you don't need much to get out of the house. A simple eye make-up and a bold lip bring everything together.
This particular black and white shirt goes well with a bold lip. If you've been following my blog, you've noticed my cherry lips lately. They are part of a large group of lips called statement. A bold lip is hard to maintain sometimes, but if you follow these 3 easy steps they will last longer: contour, blot and apply again a few times and refresh after a few hours.
p.s. I also own the reverse model of this shirt, shot in this post here. I could not decide between the two, so I bought them both, as one usually does.
Wearing: Check Shirt // New Yorker, Jeans // Bershka, Platform Shoes // Stradivarius (old, these are great), Purse // Primark London (old, love this one here), Earrings // The Jewelry, C&A, Ring // Accessorize, 3D Bracelets // Stradivarius, the rest random. Lips // Rimmel – Cutting Edge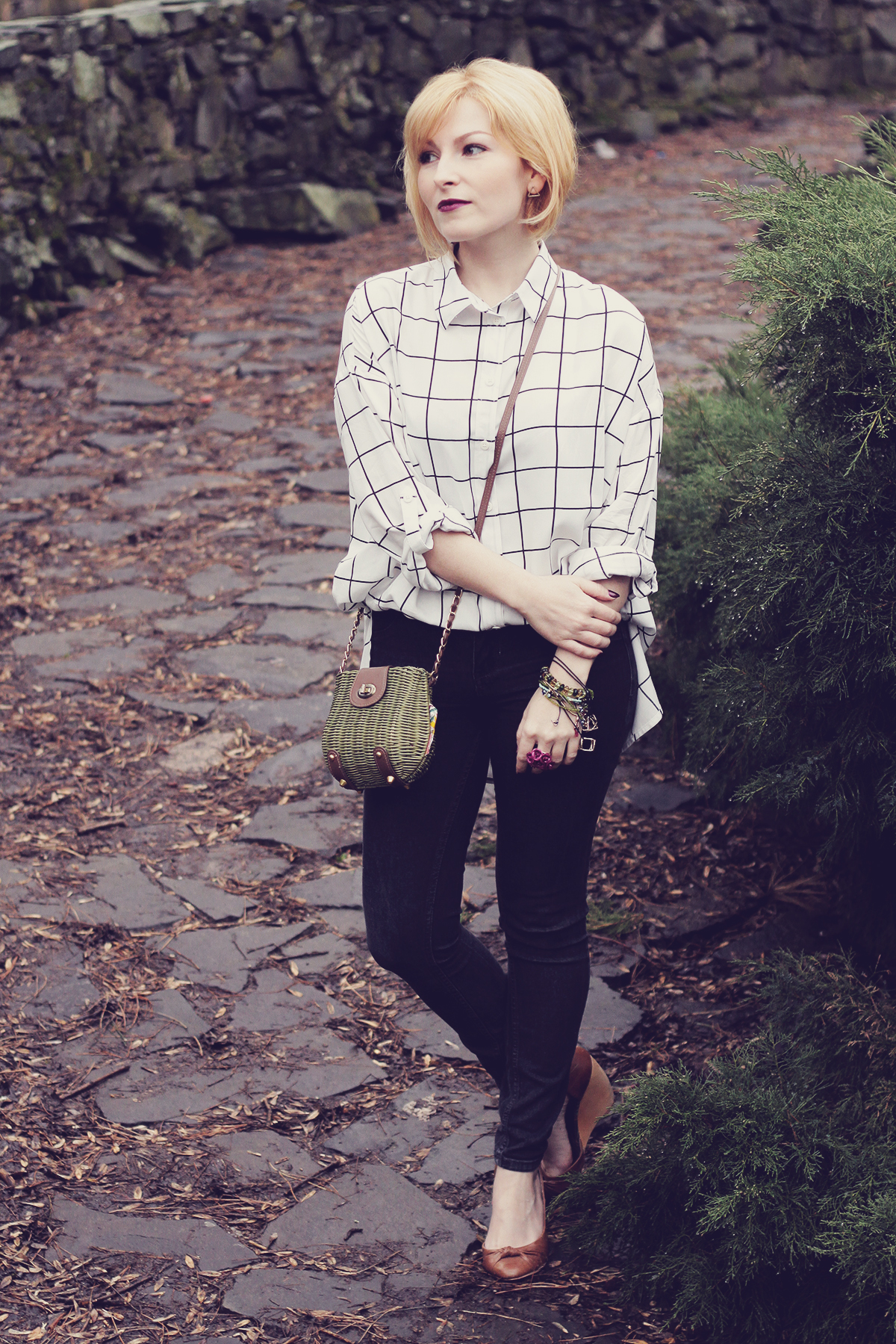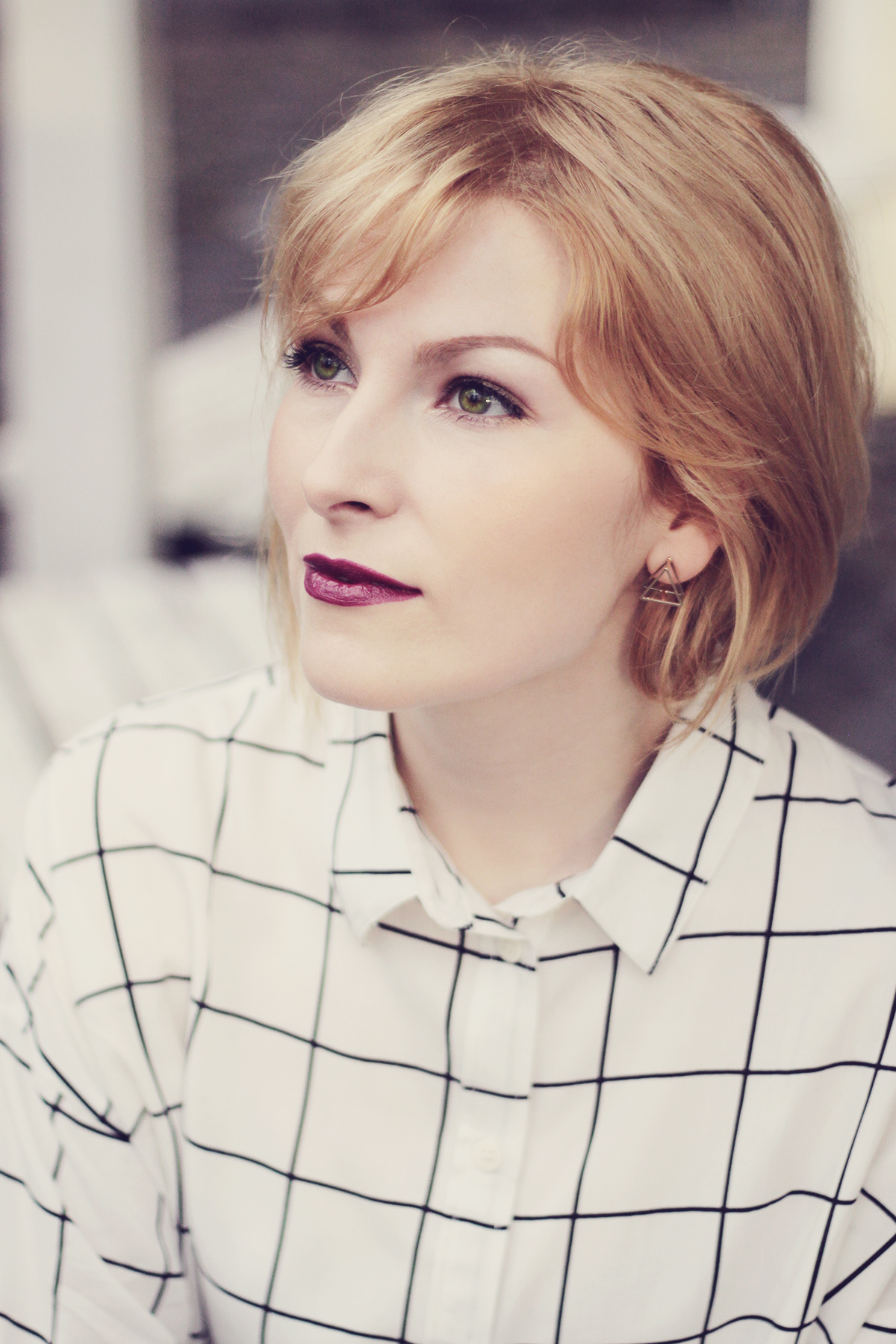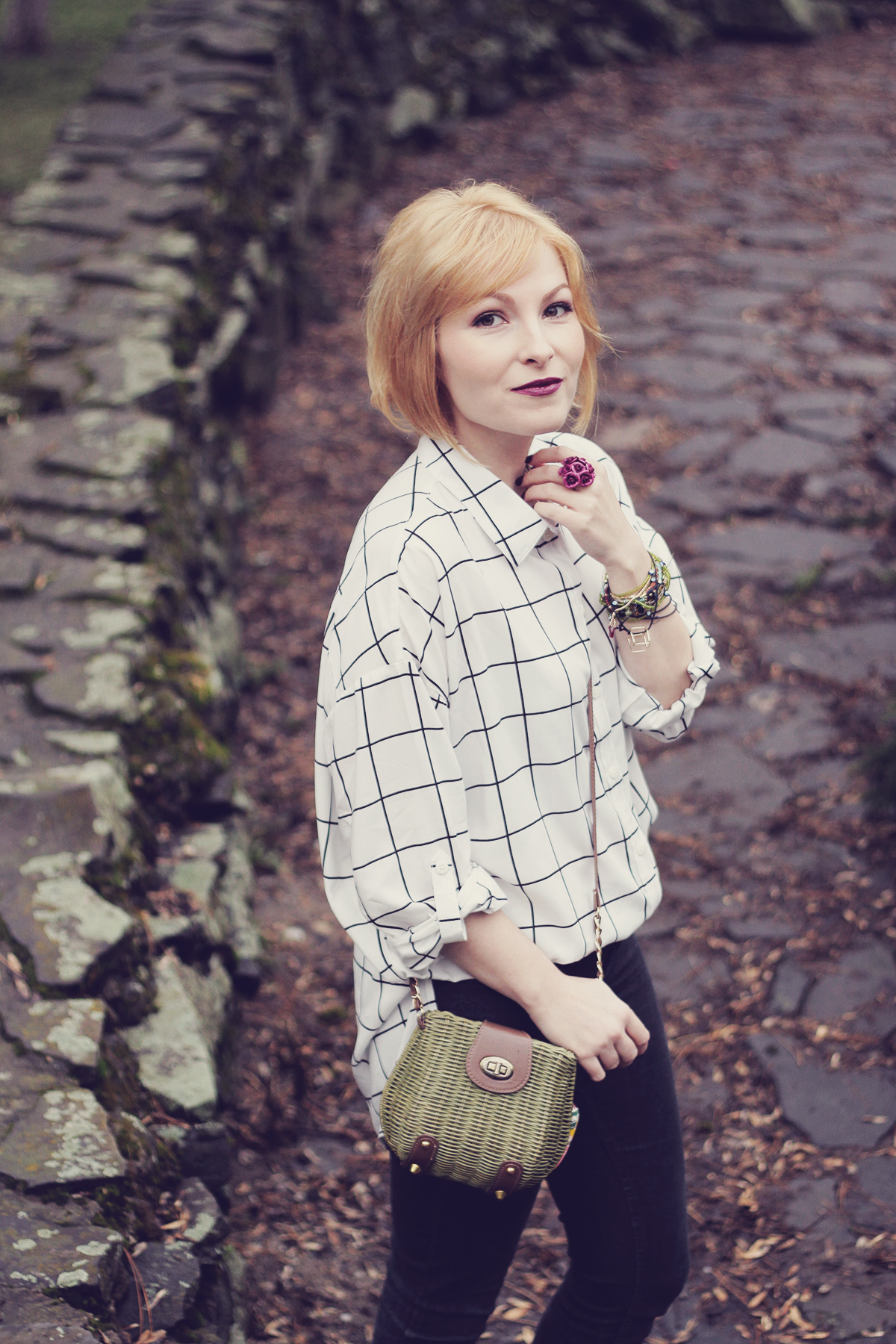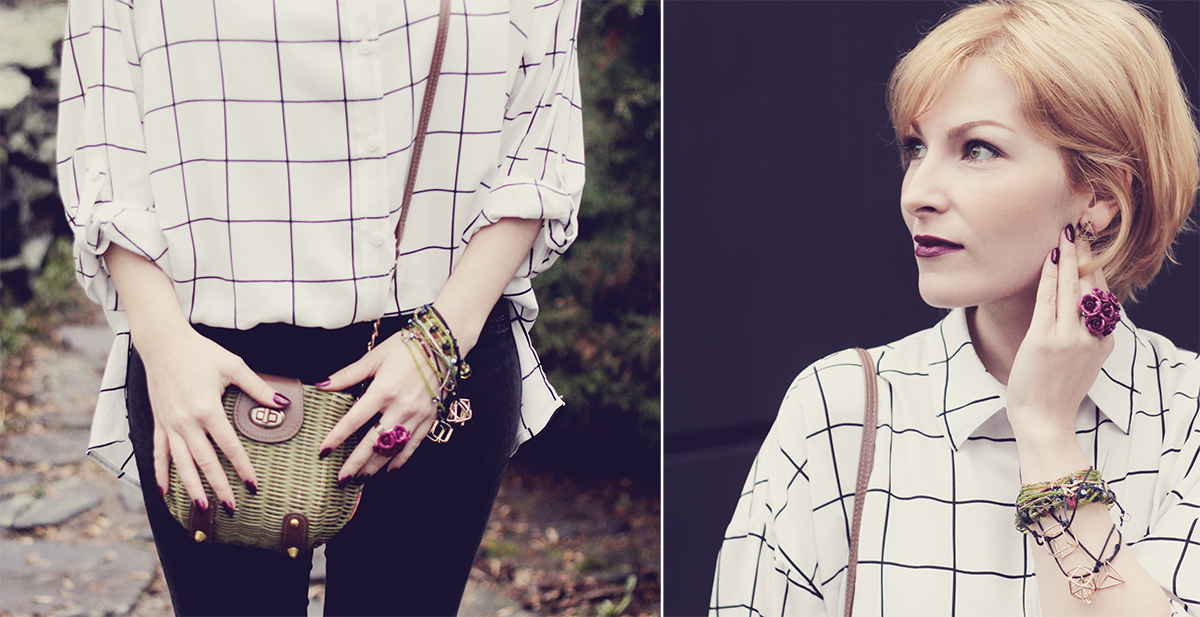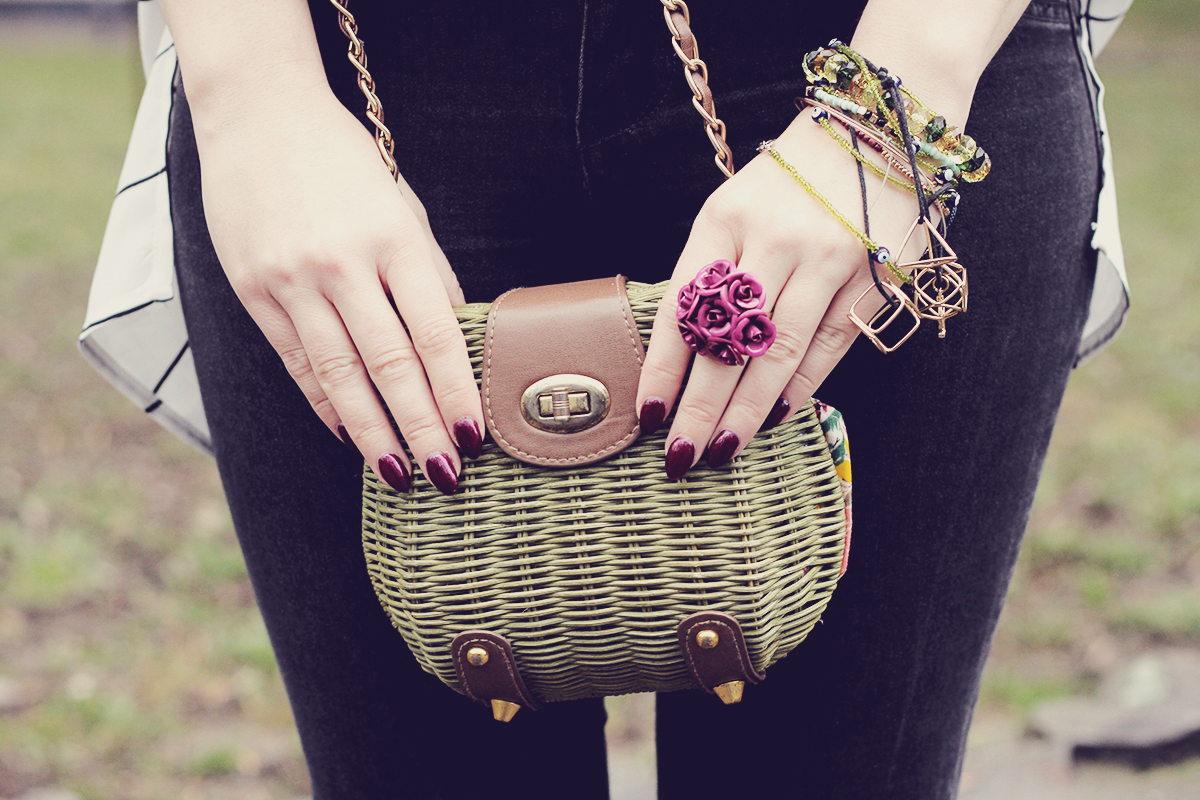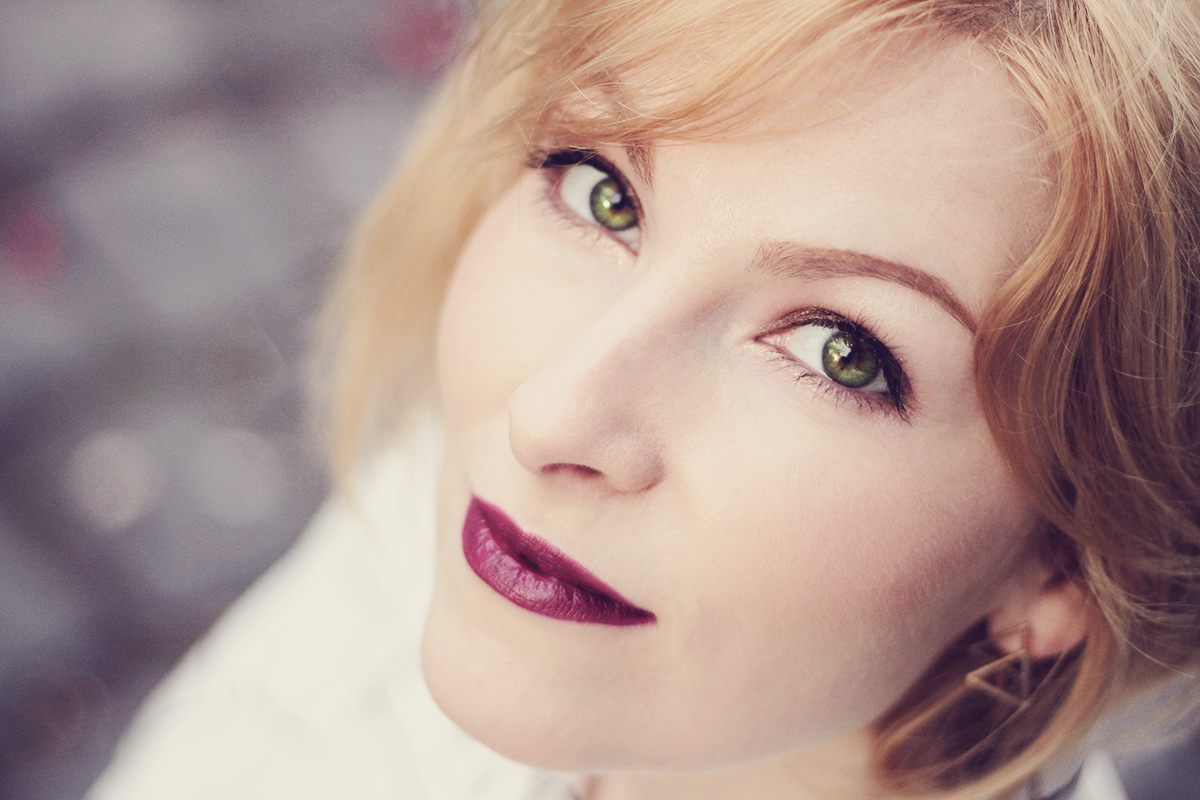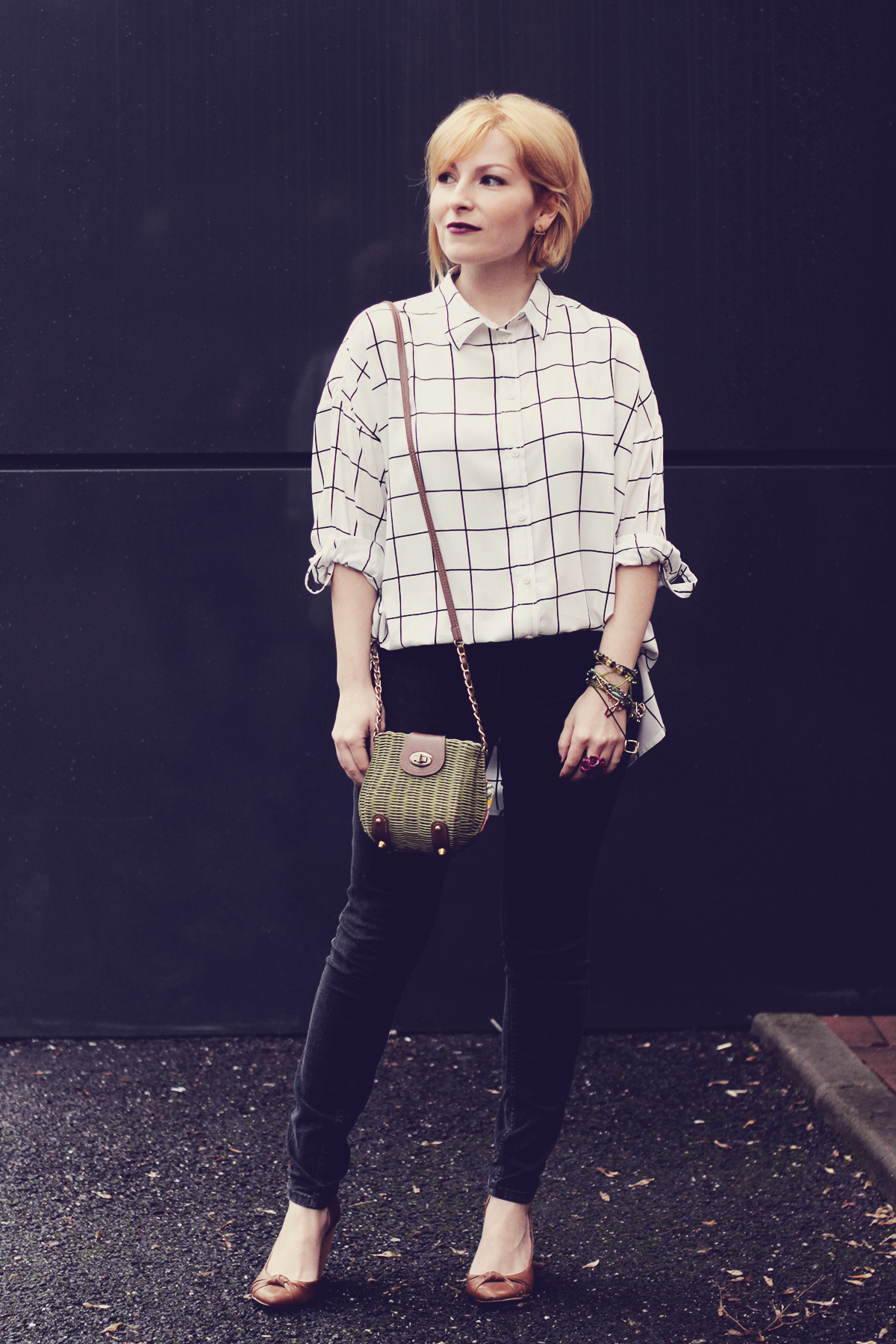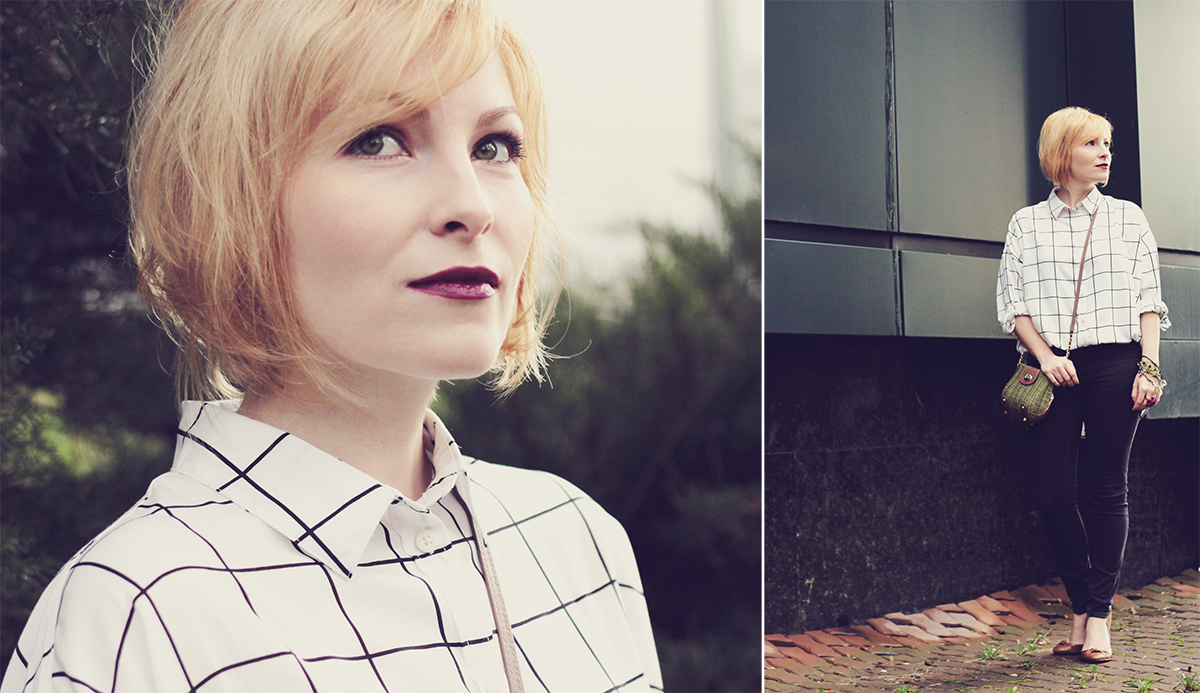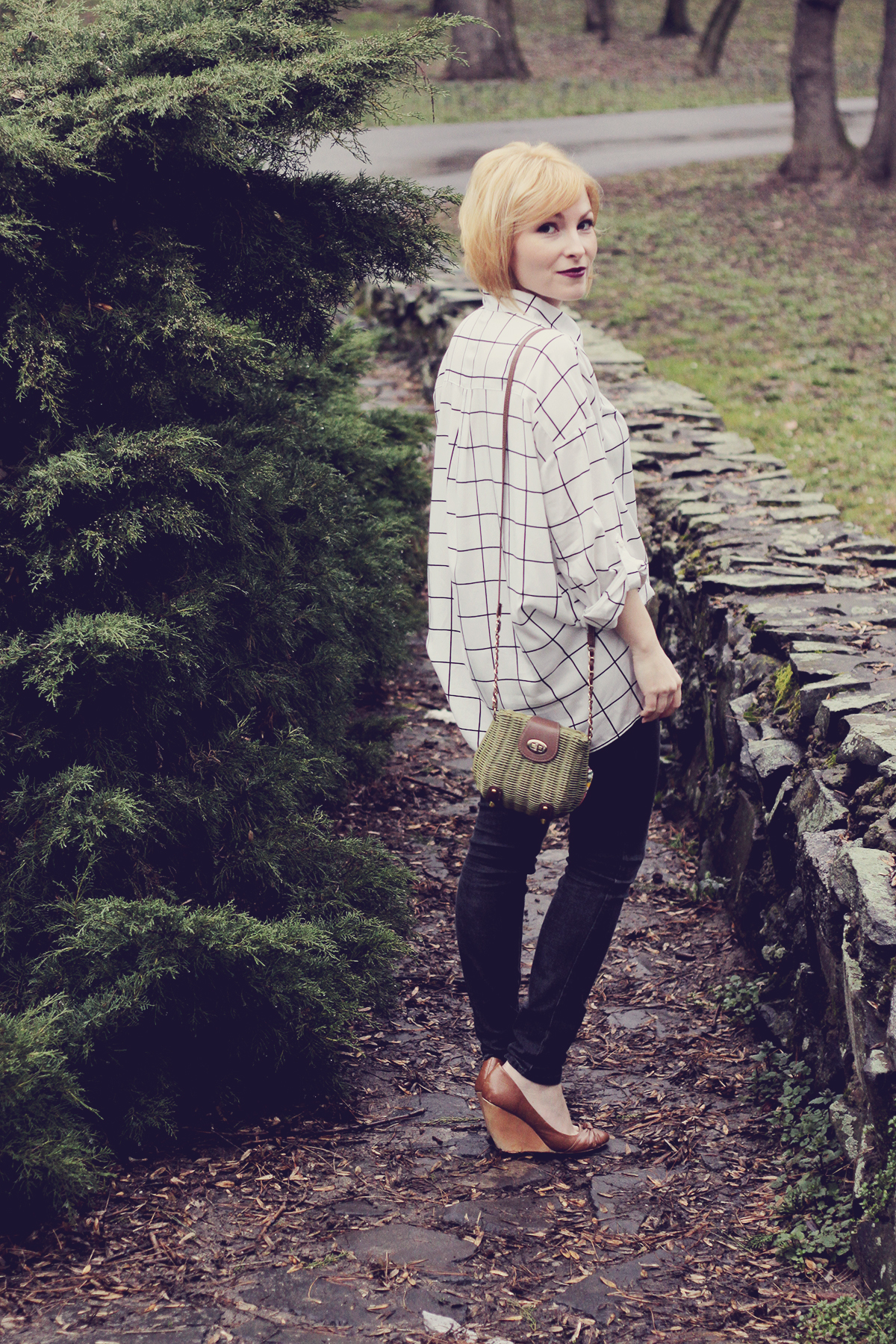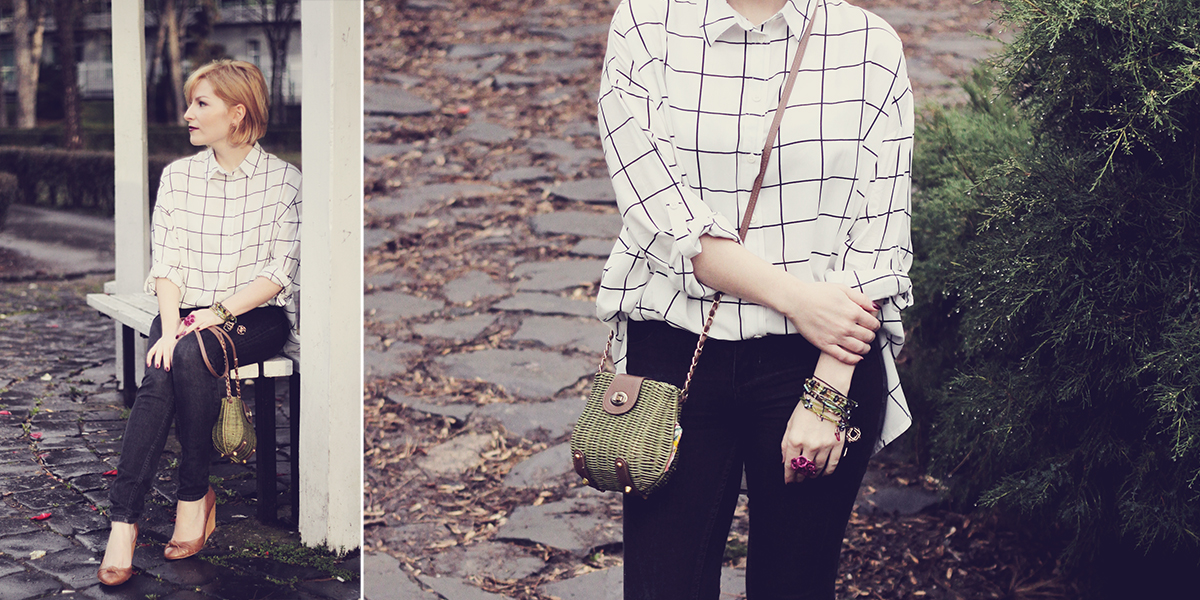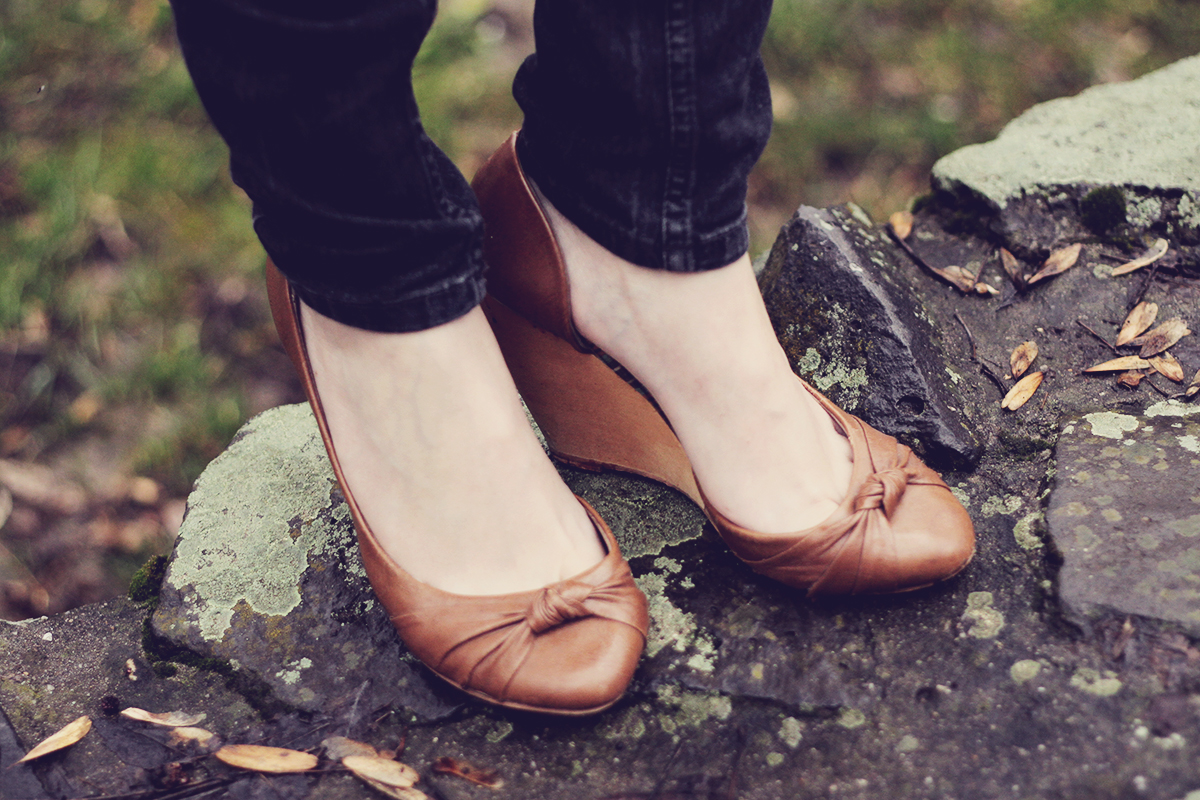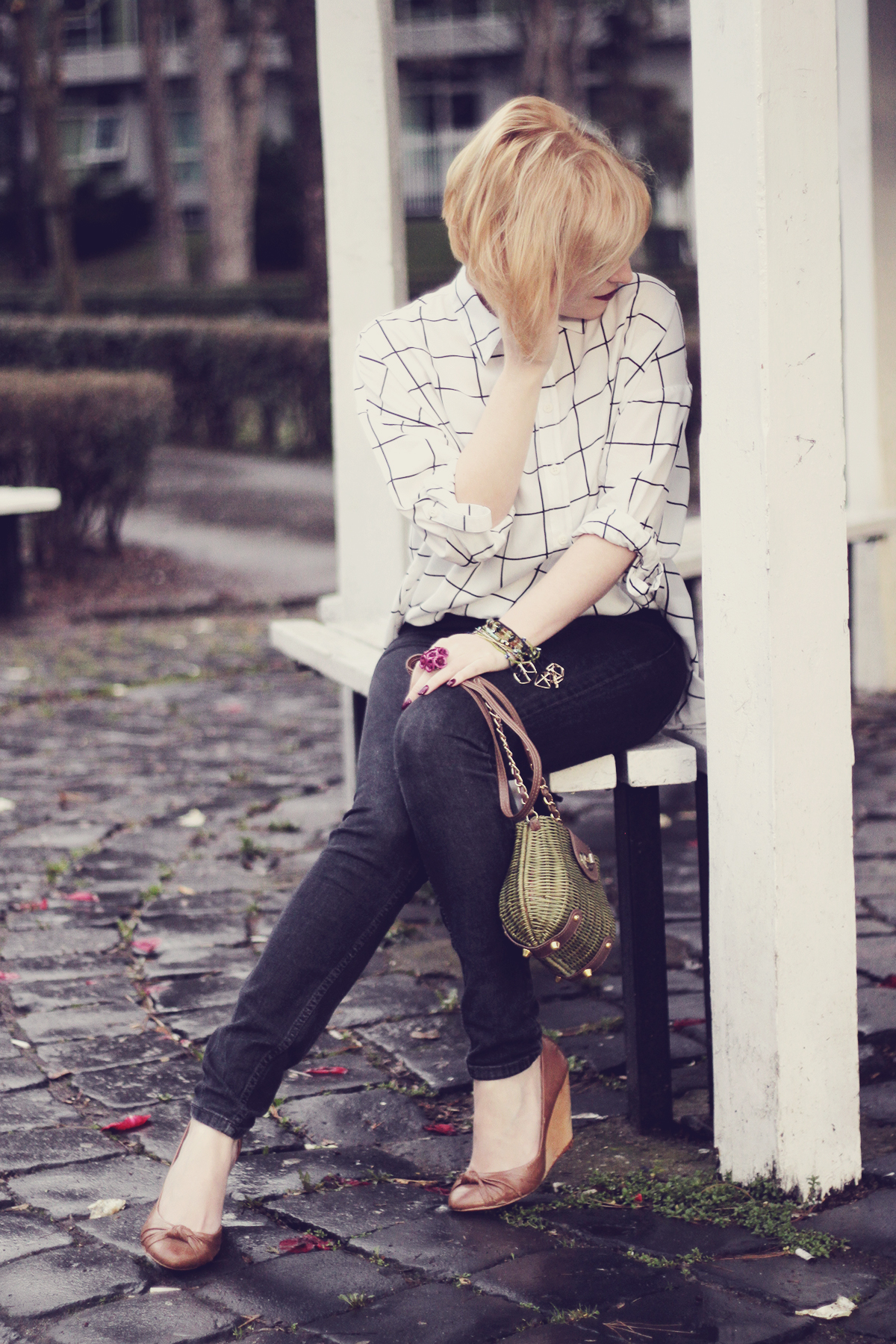 .
Photos by Cata, edited by me.
.
Thanks for reading & watching 🙂
.
Women's Black and White Button Down Blouse, Black Skinny Jeans, Brown Leather Wedge Sandals, Olive Crossbody Bag on Lookastic: Black and White Button Down Blouse, Black Skinny Jeans, Brown Leather Wedge Sandals, Olive Crossbody Bag
.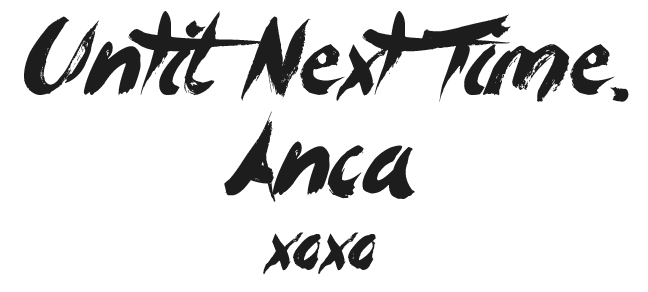 .