Today I'm taking a pause from my pretty face and lady looks to bring you a special post dedicated to the men in our lives.
The 88th Academy Awards are this Sunday, February 28, 2016. I know I will be digesting the fashions on the Red Carpet over coffee the next day – reading, watching videos, seeing the winners. Me in my PJs, looking at glamorous gowns. Usually it takes all day, but what a fun day. I could stay up and watch, but E! has a whole week of Oscar reruns, so I won't be bothered.
I know many of you girlz will be looking at everyone's favorite boy right now, Leo. I hope he gets that Oscar already. But only because everyone is talking about it and I'm sick of it. By the looks of it, half of the battle is already won, having the internet lobby for him this year. The Academy usually gives it to actors dedicated to their craft. This is why they invented the Oscar bait roles. I will not get into the whole #OscarsSoWhite debacle, because this is not the time, nor the place.
Me? Have I got a male favorite? Not really, I enjoyed Matt Damon in "The Martian" and would rather see him as Bourne than any other role, Bryan Cranston will always have a place in my heart because of Walter White and Tim Whatley (Seinfeld), so yeah, I hope he wins, but that is a very slim chance. The others don't matter. There!
The one hot British smoldering chocolate man I wished was nominated and present at this year's Oscars is Idris Elba. I'm a big fan of "Luther", and although his transition to the States meant more fluff movie roles ("Obsessed", anyone?), Idris can play one hell of a character when given the right script and project. Take last year's "Beasts of No Nation", a role many hoped the Academy would notice.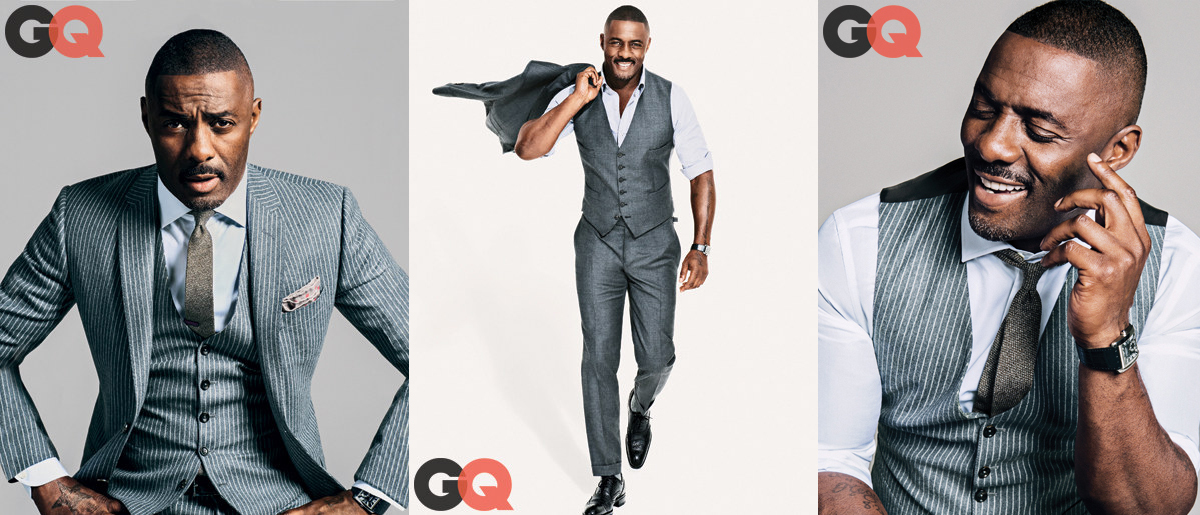 Photos from GQ
I usually prefer actors who are a bit under the radar, still popular, but in no way in Leo's level of popularity. As a person he has a great, posh sense of style. A real man's man. God damn, that man can wear a suit like no other. Even his more relaxed looks are simple, yet so cool. And isn't that all that matters? Looking for inspiration in real men, men with style, men who are still men. Because really, I'm sick of the boyish looks trending now, the One Direction pimple poppers, in their too relaxed matching lumberjacks and funny hair. I know, I'm an old fart here, but where have all the men gone? Really now!
That is why Idris Elba embodies everything I love in men – confidence through his style, charming good looks and I bet he smells great, to boot. I'm going to play a little devil Oscars stylist now and if he were to land on my hands, I would dress the hell out of him.
The Oscars Red Carpet is regularly a black and white tie affair, the male actors often choose the smart but safe black and white suit. Sometimes a tuxedo. If the persona is more quirky, you'll see the suit and sneakers ensemble, the butlers (white jackets), the nude suits, the reds, just about anything to break the boring mold. But boring doesn't always mean… well, boring. A good tailored suit can make or break a man's look. Many times I have seen very loose jackets and pants, wrong cuts, wrinkled materials, wrong hemlines, miss-matched ties and cuffs, wrong bow-ties, you name it. Maybe that's why my focus is on the ladies. Gosh, I make it sound like the men's Red Carpet is a total disaster, but it's not, many, many look fantastic, I'm talking about the very few slippery ones.
Nobody, and I mean nobody embodies elegant suit looks more than Tom Ford. By the looks of it he was born in one, so tailoring a suit must be his second skin. His suits are sharp, elegant, very posh, sexy as hell and Bond like (he caters to the franchise, no wonder). But I would be torn into choosing a 3 piece suit or a double breasted suit. Tsk, tsk, stylish white people's problems.

Photos from Pinterest
Because I absolutely love ties, I would go with a double breasted suit and tie. Black. Silk all around. A white, crisped to perfection shirt. A jacket with a lapel that matches the width of the tie, very fit. A Windsor knot. Slim fit pants. Black shoes. The men don't need much to look great on the Red Carpet, it all comes down to a well tailored and fitted simple suit.
And now excuse me, I've been watching way too many suit photos and too many Idris photos. I'll be in my bunk.
.
This post was inspired by the undergarments of Tommy John – The Best men's underwear, Undershirts & Socks. Smart design and fabrics mean no more bunching, squishing or riding up. Get comfortable with yourself.