Creating A Cozy and Inviting Space
48% of moves happen between the months of May and August. While moving into a new home can be exciting, there is a lot of planning and preparation that goes into it that can be stressful. From sorting through and organizing items to packing and unpacking, there are so many steps you need to take to prepare for your big move. Once you are all unpacked and moved into your new place, the fun begins! This is the time to start making your new house feel like home. Today, I will be sharing with you a few must-have items that will help make your new space feel more cozy and inviting.
Kitchenware
Once you're moved into your new home, you're bound to have company over to celebrate. What better reason to upgrade your dishes, pots and pans, and utensils? It's important to have a good set of dishes to serve your delicious meals on. Buying dishes with fun colors or patterns is also an easy way to add a little flair to your dining room table.
Plants/Greenery
Picture frames and wall decor are great ways to add a personalized touch to your space, but plants can really liven it up! There are so many different types of plants to choose from and you can mix and match. You can even get different colored pots and plant holders to spice things up a bit! If you're worried about the upkeep or don't have enough time to maintain your plants, you can buy fake plants instead. There are a lot of realistic ones out there that look just as good!
Quality Mattress
Moving is the perfect time to get rid of your worn out items and replace them with new ones. Experts say that you should replace your mattress every 5-7 years if you're not sleeping well. Ditch your old mattress and start fresh by investing in a quality mattress that will last you a longer period of time and provide you with a better night's sleep.
Utility Items
Let's face it, items like extension cords, power strips, smoke detectors, and light bulbs are often overlooked. Every house/apartment has power outlets, but they may not always match up with your furniture layout. This is where extension cords or power strips come in handy. Light bulbs are also a must for your favorite lamps, bathroom vanity, and more! You may not think you'll need these items, but I promise they'll come in handy one way or another.
A Good Sofa
The living room is a place where friends and family gather to spend time with one another. Whether it's playing your favorite board game or cheering on your team, a good sofa is a must when it comes to entertaining. Consider your options when picking out a sofa: will there be enough seating for everyone to fit comfortably, will it fit with the layout of your room, is it comfortable? Check out these great sofa options here.
Take a look at the guide below for more tips for a smooth move: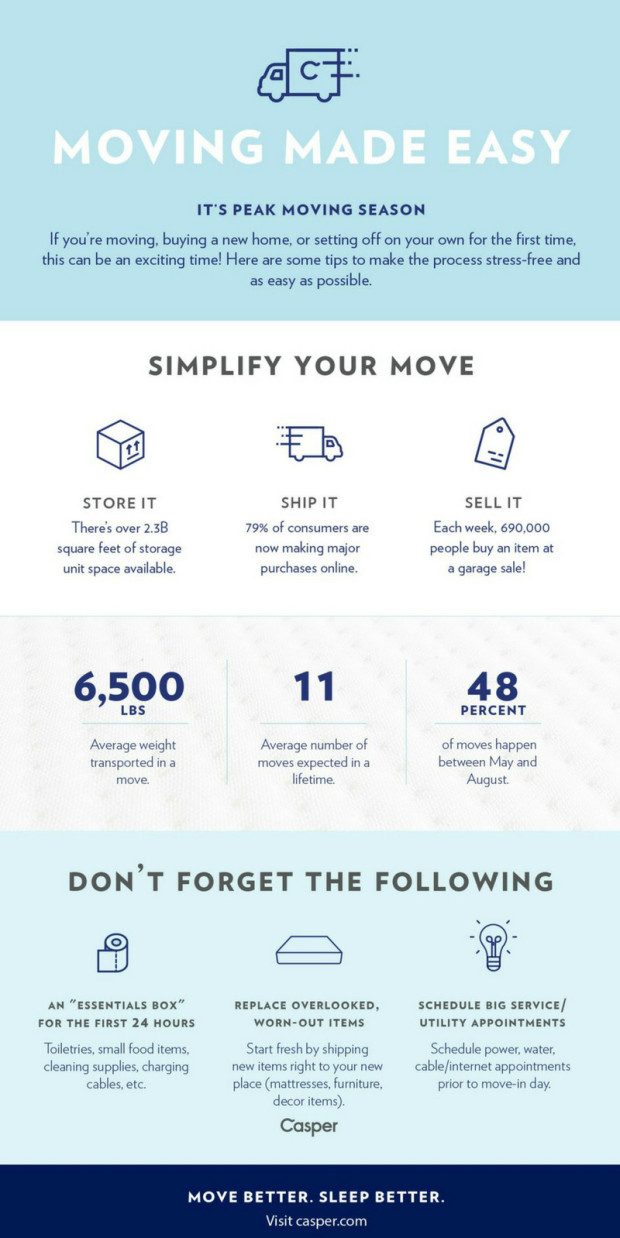 .